News
Today (30 October) sees the launch of the VAULT New Writers Award, an exciting new practical writing course taking place at VAULT Festival 2018 (24th January – 18 March). Designed and developed by playwright and Nick Hern Books author Camilla Whitehill (Mr Incredible) and producer Rosalyn Newbery in partnership with VAULT Festival and supported by NHB, the New Writers Award offers a total introduction to writing for stage. 
The programme is open to prospective writers over the age of 18, who have never had a full-length play staged before (absolute beginners are highly encouraged!). Eight selected participants will receive mentoring and support to draft a 60-minute piece for stage, of which a 15-minute extract will be guest directed, cast, produced and performed over two finale showcase evenings to an audience made up of invited industry and the public.
Weekly three-hour weekend sessions will involve workshops and mentoring delivered by the team of industry professional programme directors plus special guests, guiding participants through the process of writing a one-hour play. Each week guest industry practitioners, including writers, agents, directors, producers, theatre publishers, dramaturgs and actors will deliver exclusive masterclasses designed to demystify the ways in which a creative team work together to achieve the end goal – getting a play from page to stage!
Access to a Playscript Library and an eight-week VAULT Festival Pass will allow participants to immerse themselves in the world of theatrical writing, and benefit from weekly trips to see VAULT shows free of charge, followed by a group discussion in the bar, to introduce them to different ways of making work for the stage and to find what styles and genres appeal to them as individual artists.
At the end of the eight weeks, a 15-minute extract of all plays developed under the programme will be presented as part of an exciting industry showcase. On completion of the course, all eight participating playwrights will be winners of the VAULT New Writers Award, which they can take forward to aid the progress of their future careers. NHB will also consider the completed scripts with a view to potential publication.
Applications for the VAULT New Writers Award are open now and will close on 1 December 2017. Successful applicants will be notified in early December. To find out more and apply, visit the VAULT Festival website.
Nick Hern Books are delighted to support the VAULT New Writers Award, and to continue our relationship with VAULT Festival following publication of our anthologies Plays from VAULT and Plays from VAULT 2, which rounded up some of the best new writing at the 2016 and 2017 Festivals. Good luck to all who apply, and we can't wait to see the results!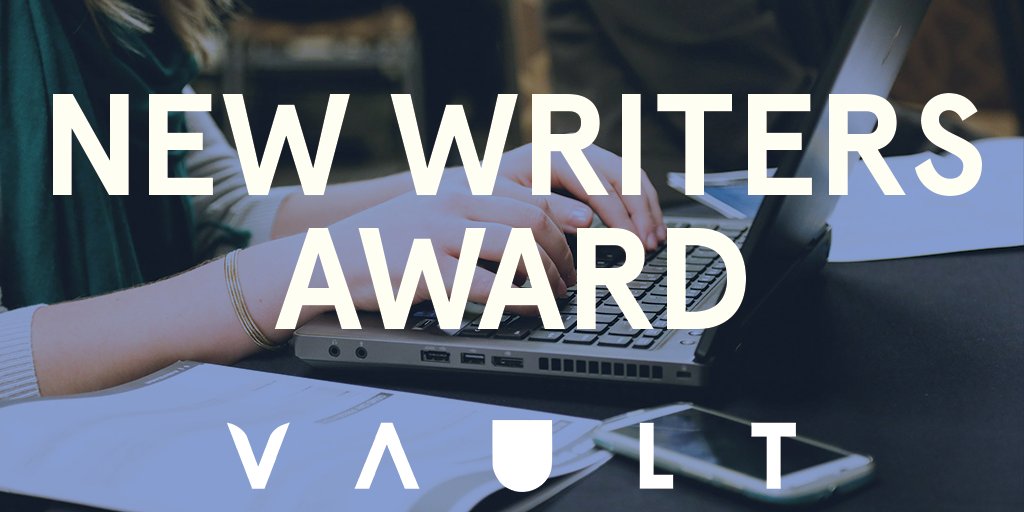 We're delighted to announce two new plays in the Platform series, our partnership with Tonic Theatre which provides much-needed onstage opportunities to girls and young women in school, college and youth theatre groups. The new plays, The Glove Thief by Beth Flintoff and Red by Somalia Seaton, will be available to read and perform from November 2017.
First launched in 2015 as a partnership between Tonic Theatre and NHB, Platform is a series of plays written specifically for performance by schools, colleges and youth theatre groups. The plays are designed for performance by all-female or mainly female casts.
The Platform series was conceived as a response to the findings of Tonic's research report Swimming in the Shallow End (available to read in full online here), which showed that drama groups at schools, colleges and in youth theatre had majority female participants but a significant lack of parts for them to play. This concerned both the number of parts available, and the quality of those parts – how well-written, developed and central the characters were to the action. Tonic's research showed that this chronic lack of opportunity and marginalisation eroded girls' confidence, self-esteem and aspiration, denying them the many benefits drama can bring to young people. The Platform plays were commissioned to help address this imbalance.
The first three Platform plays – The Light Burns Blue by Silva Semerciyan, Second Person Narrative by Jemma Kennedy and This Changes Everything by Joel Horwood – were launched in 2015, and have since seen dozens of productions by schools, colleges, universities and theatre companies around the world, offering valuable opportunities to hundreds of young women. This Changes Everything was nominated for Best Play for Young Audiences at the Writers' Guild of Great Britain Awards 2017.
The two new Platform plays will be available to read and perform from November 2017. Scripts and performance licences are available at a specially discounted rate to education, youth and arts organisations. Full information about the plays and how to apply to perform them is available at www.tonictheatre-platform.co.uk.
Lucy Kerbel, Director of Tonic Theatre: 'Youth drama is the engine room of the theatre industry; tomorrow's theatre-makers (not to mention audience members) are to be found today in youth-theatre groups, university drama societies and school drama clubs. If we can challenge their assumptions about the role of women's stories, voices, and ideas in drama, then change in the profession – in time – will be immeasurably easier to achieve.
'From November there will be five Platform plays available, and at Tonic our hope is that there will be many more. Our aspiration is to keep commissioning titles in the series so that over time Platform will become a new canon of writing for young actors and one that puts girls and their lives centre stage.
'The first three plays in the series were published two years ago and already in that time have been performed across the length and breadth of the country as well as in Australia, Ireland and the USA. I look forward to hearing about productions of these new plays – and a future where great stories about girls and their lives are being staged in theatres, halls, drama studios and classrooms as the rule rather than the exception.'
Tamara von Werthern, Performing Rights Manager at Nick Hern Books: 'When we first decided – in collaboration with Tonic Theatre – to publish and license the Platform plays, we had high hopes that by making plays available which gave young women the opportunity to take centre stage, we would change not only their confidence levels but also the theatrical landscape as a whole.
'Whilst the success of the first three Platform plays is cause for celebration, it is no reason for complacency. We are delighted to add a further two great plays to the series, which will hopefully be received as enthusiastically by schools and youth groups, and will further help to create confident young women on and off stage.'
Beth Flintoff, writer of new Platform play The Glove Thief: 'Being asked to write a play designed to be performed primarily by young women is an honour and a privilege. I spent seven years working with the Senior Youth Theatre at the Watermill Theatre in Newbury, so I understand the difficulty of finding plays that do not result in a bun fight for sparse female roles. I know what it's like to be that director, but I also know what it's like to be in that cast. It feels like only yesterday that I couldn't have a speaking role in the school play because there was only one female part and I'd had a go the year before.
'Tonic represents a movement for change that I am thrilled to be a part of. Every performance by a youth or community theatre is a miracle, a triumph of hard work and faith over practical and financial obstacles. It's a source of great pride for a playwright to be a breeze block in the building of such miracles.'
Somalia Seaton, writer of new Platform play Red: 'More girls than boys engage with drama both in school and outside. Yet there are fewer roles written for them. The lack of female roles continues into adulthood. It's pretty boring that this is often the case. Any initiative that sets about putting young girls centre stage is an initiative that benefits not only young girls, but the whole of society.'
Tuesday 26 September 2017
Join writers Mark Gatiss, Jackie Clune and Brian Fillis in conversation with arts journalist David Benedict about the highly acclaimed BBC TV series Queers, a collection of monologues celebrating a century of evolving social attitudes and political milestones in British gay history.
Poignant and personal, funny, tragic and riotous, Queers covers major events – such as the Wolfenden Report of 1957, the HIV/AIDS crisis, and the debate over the age of consent – through eight deeply affecting and personal rites-of-passage stories.
Curated by Mark Gatiss, the monologues were commissioned to mark the anniversary of the 1967 Sexual Offences Act, which decriminalised homosexual acts in private between two men over the age of twenty-one. They were broadcast on BBC Four in 2017, directed and produced by Gatiss, and starring Alan Cumming, Rebecca Front, Ian Gelder, Kadiff Kirwan, Russell Tovey, Gemma Whelan, Ben Whishaw and Fionn Whitehead. They were also staged at The Old Vic in London. The monologues were written by Matthew Baldwin, Jon Bradfield, Jackie Clune, Michael Dennis, Brian Fillis, Mark Gatiss, Keith Jarrett and Gareth McLean.
Hear about how the project was developed with Mark and two of his co-writers, plus take your opportunity to put questions to the panel. The event will be followed by a book signing of Queers, featuring Mark, Jackie, Brian and fellow co-writers.
Tickets: £8 per ticket or £5 for Foyalty members. Book online here.
Date and time: Monday 30th October 2017, 7pm - 8pm
Venue: The Auditorium at Foyles, Level 6, 107 Charing Cross Road, London, WC2H 0DT