News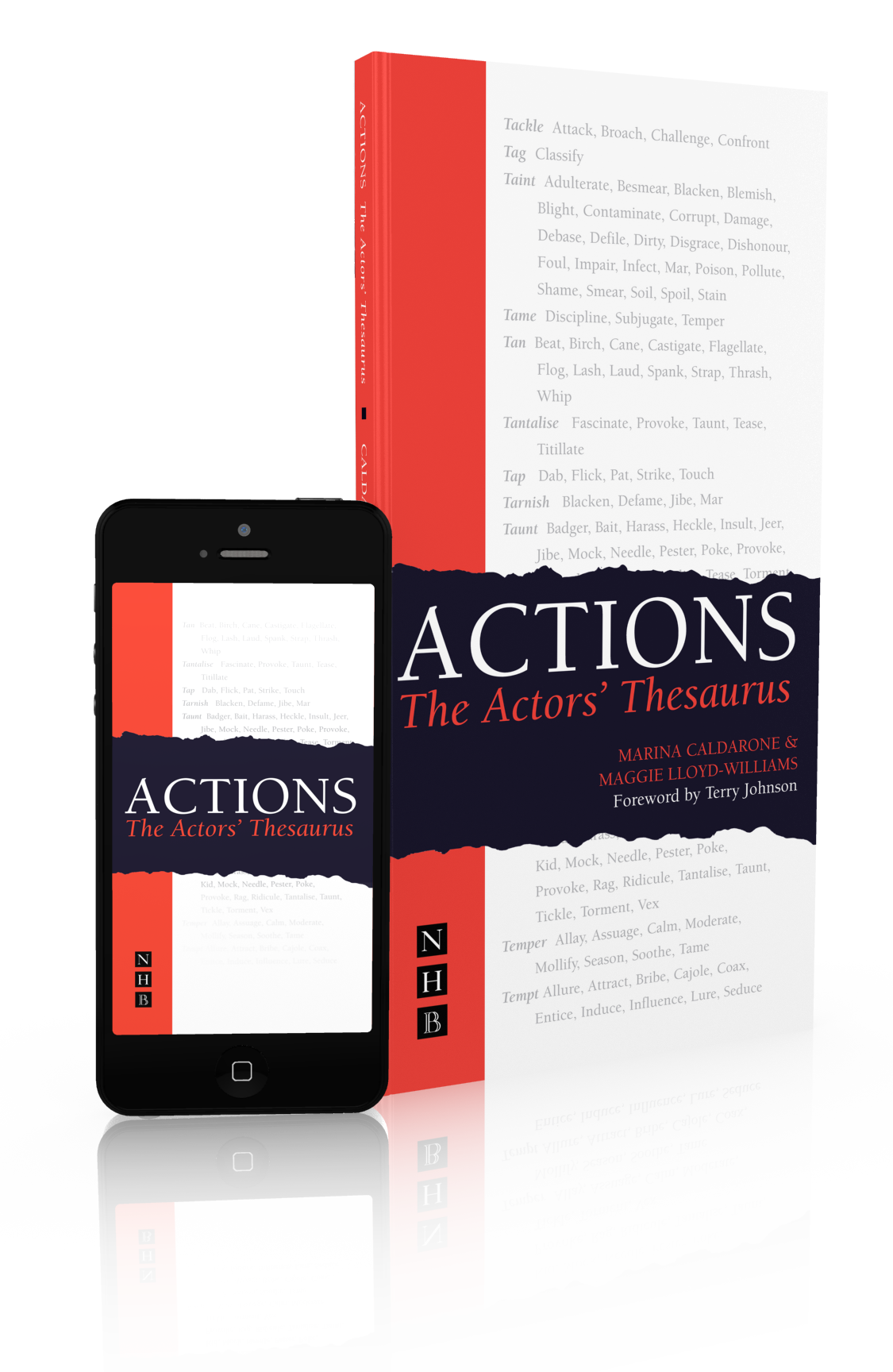 Actions: The Actors' Thesaurus, the first app designed for use in the rehearsal room and based on the bestselling book by Marina Caldarone and Maggie Lloyd-Williams, is now available at the special discounted price of £2.99 until 8 November (prices will vary in other currencies).
Actions: The Actors' Thesaurus is a fully searchable, easy-to-navigate thesaurus of active verbs, that helps actors refine their acting choice until they find the action they require to make each line come alive.
Features include:
A to Z search, and predictive search function
Emotional groupings to help you pinpoint the action you require
Bookmark, note-making and random word functions
Share your actions on social media or by email
Full instructions on how to use actioning in rehearsal, plus how to use the app
For actors at all levels and of all ages, Actions: The Actors' Thesaurus will revolutionise how you rehearse. Once you've started using it, you'll wonder how you ever managed without it.
'If you want to act, or act better, Actions will take you a long way on the journey to excellence' - Terry Johnson
'Condenses all the usefulness of the book into a neat little app. Absolutely invaluable!' - App Store user review
For more information, and to download your copy now, click here.
Leading theatre publisher Nick Hern Books is delighted to announce that the Nick Hern Books Collection is now available on revolutionary, award-winning platform Drama Online. The collection, which features titles by some of the best UK, Irish and international playwrights working today, adds hundreds of plays to this essential online educational resource.
The Nick Hern Books Collection includes:
Modern classics from Howard Brenton, Jez Butterworth, Caryl Churchill, David Edgar, Helen Edmundson, Liz Lochhead, Conor McPherson, Rona Munro, Enda Walsh and Nicholas Wright
Titles from the popular Drama Classics series, including foreign works in translation from Nikolai Gogol, Alfred Jarry, Molière and more
Fifteen plays by leading twentieth-century dramatist Terence Rattigan, each with an authoritative critical introduction
New writing from exciting contemporary dramatists such as Mike Bartlett, Alecky Blythe, Alexi Kaye Campbell, Vivienne Franzmann, debbie tucker green, Ella Hickson, Lucy Kirkwood, Nina Raine, Jack Thorne and Tom Wells
Developed in partnership by Bloomsbury Publishing Plc and Faber and Faber Ltd, Drama Online (www.dramaonlinelibrary.com) was launched in March 2013 as a response to increasing demand for a high-quality online research tool for drama and literature students, professors and teachers.
Available for institutional purchase and already used by schools, colleges and universities around the world, the award-winning Drama Online introduces new writers alongside the most iconic names in playwriting history, providing contextual and critical background through scholarly works and practical guides. Unique Play Tools with Character Grids, Words and Speech graphs and Part Books offer a new way to engage with plays for close study or for performance.
The Drama Online library features the pre-eminent theatre lists of Methuen Drama, the Arden Shakespeare, Faber and Faber and Nick Hern Books, as well as production photos from the Victoria and Albert Museum and The American Shakespeare Center and audio plays from L.A. Theatre Works. Further collections, including filmed stage productions from Shakespeare's Globe, are scheduled to launch soon.
For more information about subscriptions, trials and pricing, visit: www.dramaonlinelibrary.com/pages/how-to-subscribe.
On the Nick Hern Books blog
Our Digital Editor, Tim Digby-Bell, writes on preparing the Nick Hern Books Collection for launch, and how the Collection sheds new light on familiar plays:
'For more than twelve months we've been planning, editing, revising, checking, drinking cups of strong coffee, fretting, and then doing some more editing. It's all been worth it, though. It's a thing of wonder, and it's open for business...' Read more >>