Modern Drama
This section contains plays written or premiered after 1945.
Showing 217-234 of 1,722 items.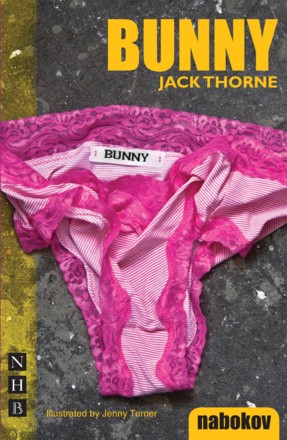 An exhilarating coming-of-age drama for a solo performer.
A timely, unsettling and powerful play from one of the UK's most prominent trans voices.

 

A heart-warming, clash-of-cultures comedy set in a Wigan taxi.

A love triangle with a dangerous twist, this moving and funny play explores the everyday dilemmas of a young woman living with autism.

A rich evocation of a world poised on the brink of Stalin's Great Terror, based on the 1994 Oscar-winning film written by Nikita Mikhalkov and Rustam Ibragimbekov.

A play about grief and looking at someone that little bit more closely. Written specifically for young people, Burying Your Brother in the Pavement was part of the 2008 National Theatre Connections Festival and was premiered by youth theatres across the UK.

Four full-length plays and two previously unpublished shorts from the multi-award-winning author of Jerusalem.

Three extraordinary plays by one of the most audacious and talented playwrights of our times: Jerusalem, The River and The Ferryman. Plus his short film The Clear Road Ahead, and a conversation with playwright Simon Stephens.

A hilarious satire of race in the glamorous days of Old Hollywood, told via the life of a fictional African-American movie star. From the winner of the 2009 Pulitzer Prize for Drama.

An overview of contemporary Canadian theatre for just about any occasion, drawn from 50 plays with an exhilarating diversity of aesthetics, styles, techniques, themes, voices and vocabularies.

A provocative and witty play about an uncompromising voice in dangerous times.

A searingly funny debut play about death, betrayal, and the possibility of forgiveness. And cider.

A landmark dramatisation for the Royal Shakespeare Company of one of the foundation stones of English literature.

Rona Munro's adaptation of Louis de Bernières' much-loved epic novel, set on an idyllic Greek island in 1941.

An acclaimed Catalan drama that presesnt a disturbing picture of contemporary Western society set against a background of urban alienation and violence.

A raucous comedy and a compelling story about secrets, memory, history and 'cariad' - Welsh for love, beloved one, darling.

The book and lyrics of the extraordinary musical theatre hit from the Pulitzer Prize-winning author of Angels in America.

The book and lyrics of the extraordinary musical from the Pulitzer Prize-winning author of Angels in America.