Showing 217-234 of 1,876 items.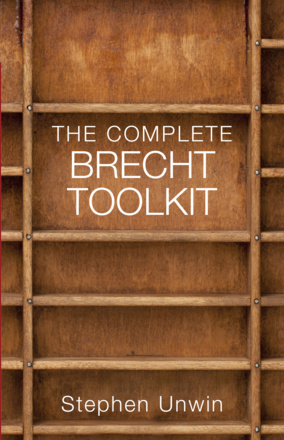 A practical, hands-on guide - for actors, directors, teachers and students - to Brecht's theory and practice of theatre, with a full set of exercises to help put theory into practice.
A revised and updated edition of Bella Merlin's essential guide to Stanislavsky's terms and ideas.

A story of lust, madness and destruction set in the backstreets of Paris. Based on Emile Zola's classic novel.

Unlocking Plays Through Physical Theatre

Dymphna Callery, author of Through the Body: A practical guide to physical theatre, shows how exercises and rehearsal techniques associated with physical and devised theatre can be applied to scripted plays.

A hospital play that follows a tangle of doctors and nurses in a busy London hospital.

The definitive guide to designing for theatre – by an award-winning designer with over 160 productions to his name.

A second collection of plays by Fin Kennedy, author of How To Disappear Completely And Never Be Found and The Urban Girl's Guide to Camping and other plays.

A solo show tracing one man's journey into the Amazon rainforest and to the limits of human consciousness, inspired by the book Amazon Beaming by Petru Popescu.

An Actor's Guide to Overcoming Stage Fright

The first book of its kind written specifically for actors, Facing the Fear provides all the tools actors need to understand, confront and ultimately overcome stage fright and its effects, thereby regaining control over their lives and careers.

The Essential Guide to a Successful Career

The essential guide to being a successful working actor: how to put yourself in the best possible position to get work, to keep getting it, and to make a living from it.

An accessible and authoritative guide to developing a successful career as a screen actor.

A Practical Guide for Theatremakers

The definitive guide to writing music for the stage, by the Composer-in-Residence at the Donmar Warehouse.

An inspiring, practical guide to working with young people on their voices, by a highly experienced teacher, actor and director.

Playing Shakespeare's Roles for Women

Award-winning actress Harriet Walter shares insights gleaned from her vast experience of performing some of Shakespeare's most famous roles - both male and female.

A selection of the best contemporary scenes for two actors, one man and one woman. In the Good Audition Guides series.

A selection of the best contemporary scenes for two male actors. In the Good Audition Guides series.

There is limited availability of this title. Please

enquire

before placing your order.

A selection of the best contemporary scenes for two female actors. In the Good Audition Guides series.

Five new plays from VAULT Festival

An anthology of five of the best plays from VAULT 2017, London's biggest and most exciting arts festival.