Paperback,
169 pages
ISBN: 9781854591180
Publication Date:
10 Oct 1991
Size: 198mm x 132mm
£12.99 £10.39
You save £2.60 (20%)
The Guid Sisters and other plays
Three plays from the renowned Quebecois writer.
The Guid Sisters is a Scots version of Michel Tremblay's Les Belles Soeurs (Montreal, 1968), translated by Bill Findlay & Martin Bowman.
Germaine Lauzon has won a million Green Shield stamps. She invites her female friends and relations to a party to paste the stamps into the books. The temptation to pilfer the stamps is irresistible and an enormous fight breaks out.
Manon/Sandra is a controversial but humane duet crosscutting between the lives of Manon, an obsessively religious girl, and 'Sandra', a sex-obsessed transvestite.
Albertine in Five Times is a one-act portrait of a woman at five different ages.
Press Quotes
'When Tremblay's Les Belles Soeurs opened in Montreal in 1968 it shocked, it confounded, and established the then 26-year-old playwright's reputation immediately ... Tremblay is not merely a Quebecois writer, he is a cultural hero'
Guardian on 'The Guid Sisters'
'A sharp, merciless black comedy ... the Tremblay dialogue - written in the once despised 'joual' French dialect of Quebec - translates into urban Scots as though the languages were long lost twins'
Scotsman on 'The Guid Sisters'
Paperback,
169 pages
ISBN: 9781854591180
Publication Date:
10 Oct 1991
Size: 198mm x 132mm
£12.99 £10.39
You save £2.60 (20%)
Also by Michel Tremblay: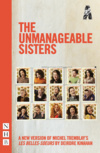 Also by Bill Glassco: