Paperback,
88 pages
ISBN: 9781839042966
Publication Date:
7 Dec 2023
Size: 198mm x 129mm
£10.99 £8.79
You save £2.20 (20%)
Ebook,
88 pages
ISBN: 9781788507493
Publication Date:
7 Dec 2023
£10.99 £8.79
You save £2.20 (20%)
The Time Machine: A Comedy
On Stage at:
Park Theatre, London
From Thu 30 Nov 2023 to Sat 30 Dec 2023
The Lowry, Salford
From Tue 23 Jan 2024 to Sat 27 Jan 2024
Northcott Theatre, Exeter
From Mon 5 Feb 2024 to Thu 8 Feb 2024
Cheltenham Everyman
From Tue 27 Feb 2024 to Sat 2 Mar 2024
Yvonne Arnaud Theatre, Guildford
From Tue 5 Mar 2024 to Sat 9 Mar 2024
Theatre Royal, Bury St Edmunds
From Tue 12 Mar 2024 to Sat 16 Mar 2024
Lichfield Garrick
From Tue 19 Mar 2024 to Sat 23 Mar 2024
Royal & Derngate, Northampton
From Tue 26 Mar 2024 to Sat 30 Mar 2024
When the worlds of science-fiction and science-fact collide… extraordinary things can happen.
Dave is the great-great grandson of H.G. Wells, author of the 1895 novella The Time Machine, a book that foretold (with suspicious accuracy) the future of the human species. What if the ideas in that book weren't entirely fiction? Right now, Dave and his friends Amy and Michael must set out on a journey through time… the journey of a lifetime!
The Time Machine: A Comedy is (very loosely) adapted from H.G. Wells by Steven Canny and John Nicholson, whose previous adaptation of The Hound of the Baskervilles was a hit in the West End and subsequently for numerous companies worldwide. It was first produced in 2023 on a tour of the UK, before a run at Park Theatre, London, produced by Original Theatre and directed by Orla O'Loughlin.
Fast-paced and wise-cracking, this riotous retelling zips from the nineteenth century to the end of the world, and (with any luck) back again. It will suit any theatre company looking for a time-bending adaptation of a well-loved story – and a surefire audience-pleaser.
Press Quotes
'Breathtaking… gloriously silly, unrestrained fun'
The Stage
'Exquisitely entertaining… thoroughly, ridiculously amusing'
Indiependent
'A rollercoaster ride through time and space'
What's On Bristol
'Unmissable... many laugh out loud surprises... a weird and wonderful story that seems simple on the outside but has a lot of layers (each one just as funny as the last) that slowly but surely get peeled away... two hours of pure nonsense and humour... It all blends together perfectly, with plenty of energy, some hilarious Goes Wrong-style problems, and a finale that is bizarre and wonderful, yet perfectly in keeping with everything that's just gone before... If you're looking for an evening of pure silliness that sends you out into the night with a smile on your face, The Time Machine: A Comedy fits the bill'
Everything Theatre
'Jolly good fun... part backstage farce, part Doctor Who special, underpinned by a celebratory silliness'
LondonTheatre1
'A real hoot... unpretentious and easy-flowing, with a lot of laughter... side-splitting and unpredictable'
Broadway World
'Steven Canny and John Nicholson's script gleefully takes inspiration from the source material while offering us something new... delivers consistent surprises and genuine laugh out loud moments'
Theatre Weekly
'A thorough celebration of the comedic arsenal... H.G. Wells on speed'
British Theatre Guide
'A triumph... Steven Canny and John Nicholson have once again created a hit show, using their incredibly witty writing style to deliver a script that is fast paced, slick and easy to follow... utterly insane from beginning to end'
London Theatre Reviews
'A wild and crazy ride... highly entertaining'
Sardines Magazine
'A triumphant success... one of the most hilarious explorations of the theory of time travel'
The Spy in the Stalls
Paperback,
88 pages
ISBN: 9781839042966
Publication Date:
7 Dec 2023
Size: 198mm x 129mm
£10.99 £8.79
You save £2.20 (20%)
Ebook,
88 pages
ISBN: 9781788507493
Publication Date:
7 Dec 2023
£10.99 £8.79
You save £2.20 (20%)
Also by Steven Canny: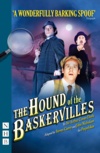 Also by John Nicholson: