Paperback,
216 pages
ISBN: 9781559364843
Publication Date:
10 Dec 2015
Size: 215mm x 135mm
£21.99
The Cherry Orchard
Paperback £21.99
There is limited availability of this title. Please
enquire
before placing your order.
A unique edition of Chekhov's heartrending masterpiece in a brilliant translation by a world-renowned team of translators.
There have always been two versions of Chekhov's The Cherry Orchard: the one with which we are all familiar, staged by Konstantin Stanislavsky at the Moscow Art Theatre in 1904, and the one Chekhov had originally envisioned.
Now, for the first time, both are available and published here in a single volume in translations by the renowned playwright Richard Nelson, and Richard Peavar and Larissa Volokhonsky, the foremost contemporary translators of classic Russian literature. Shedding new light on this most revered play, the translators reconstructed the script Chekhov first submitted and all of the changes he made prior to rehearsal. The result is a major event in the publishing of Chekhov's canon.
'Pevear and Volokhonsky are at once scrupulous translators and vivid stylists of English' The New Yorker
Paperback,
216 pages
ISBN: 9781559364843
Publication Date:
10 Dec 2015
Size: 215mm x 135mm
£21.99
Also by Richard Pevear: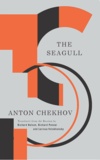 Also by Larissa Volokhonsky: