Paperback,
264 pages
ISBN: 9781559365376
Publication Date:
26 Oct 2017
Size: 215mm x 135mm
£24.99
Molière, or The Cabal of Hypocrites & Don Quixote
Two plays
From the acclaimed Russian author and playwright Mikhail Bulgakov, Molière, or The Cabal of Hypocrites and Don Quixote are given fresh new translations by preeminent Russian translators Richard Pevear and Larissa Volokhonsky, along with prominent playwright Richard Nelson.
Best known for his novel The Master and Margarita, Bulgakov had a knack for political allegory and proved it time and again in his numerous writings. Both works in this one-of-a-kind book were contentious in their time, written as allegories of the early twentieth-century Russian agenda, remarking especially on Stalin's harsh regime.
Charged with cultural subtext and controversial intrigue, both plays are revealed in a new light in this exceptional new volume.
Press Quotes
'Pevear and Volokhonsky are at once scrupulous translators and vivid stylists of English'
James Wood - New Yorker
Paperback,
264 pages
ISBN: 9781559365376
Publication Date:
26 Oct 2017
Size: 215mm x 135mm
£24.99
Also by Mikhail Bulgakov: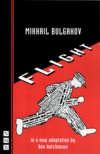 Also by Larissa Volokhonsky: