Showing 19-36 of 1,886 items.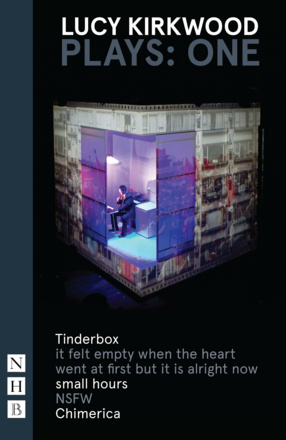 Five plays by leading playwright Lucy Kirkwood: Tinderbox, it felt empty when the heart went at first but it is alright now, small hours, NSFW and Chimerica. With an introduction by the author.
A collection of five plays by Alexi Kaye Campbell: The Pride, Apologia, The Faith Machine, Bracken Moor and Sunset at the Villa Thalia.

A first collection of plays by Ella Hickson.

A selection of the best work of Stephen Jeffreys, including his acclaimed plays The Libertine and The Clink.

A collection of six plays by one of the most distinctive playwrights working today.

Five plays from Robert Holman's first decade of playwriting.

Three extraordinary plays by one of the most audacious and talented playwrights of our times: Jerusalem, The River and The Ferryman. Plus his short film The Clear Road Ahead, and a conversation with playwright Simon Stephens.

An anthology of six brilliant plays, celebrating a multiplicity of stories authored by Black playwrights in the UK over the last decade. Selected and introduced by leading theatre director Natalie Ibu.

Three Plays

Three intricately interwoven plays about family, heritage and legacy, centring around about a Sheffield manufacturing family.

Shakespeare Reworked by Peter Brook, Robert Lepage, Robert Wilson

A casebook study of three extraordinary productions of Hamlet by three giants of modern theatre: Peter Brook, Robert Lepage and Robert Wilson.

There is limited availability of this title. Please

enquire

before placing your order.

A unique collection of everything that Ibsen wrote about the theatre.

Tender, uncompromising, haunting and lyrical, these four plays together comprise a contemporary chronicle of the lives of East London's young women.

Four early plays from the author of The Weir, with a foreword by the author.

New Scottish Plays

A collection of seven plays from Scottish writers, reflecting the upsurge in Scottish playwriting in the late twentieth century.

Ten short plays by Caryl Churchill, written for stage, radio and TV, selected and introduced by the author.

New Drama from Argentina, Cuba, Mexico and Peru

An essential introduction to the fascinating but largely unexplored theatre of Latin America, featuring new translations of five contemporary plays written by some the region's most exciting writers.

There is limited availability of this title. Please

enquire

before placing your order.

Spanning almost ten years and embracing a remarkable range of style and subject matter, this is the third volume of Churchill's Collected Plays,

A Training Guide to Commedia Techniques

A practical guide to the skills, characters and history of Commedia Dell'Arte through graded games and illustrated exercises - a useful tool in any actor's training and a discipline for all forms of physical theatre.