Ebooks
The titles below are available to buy as an ebook (EPUB file) from this site, and are also available from most ebook retailers.
You can read about how to download and read our ebooks on our Ebooks Help page.
Showing 25-36 of 1,163 items.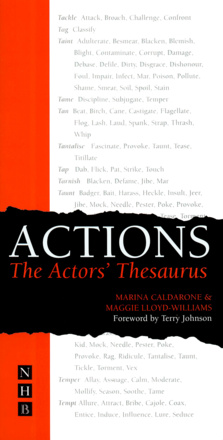 A vital companion for actors in rehearsal - a thesaurus of action-words to revitalise performance, with a foreword by Terry Johnson.
Unlocking Plays Through Physical Theatre

Dymphna Callery, author of Through the Body: A practical guide to physical theatre, shows how exercises and rehearsal techniques associated with physical and devised theatre can be applied to scripted plays.

The ultimate insider's guide to acting for film and TV, from an actor well known for his roles on TV and in films. With a foreword by Ewan McGregor.

A revised and updated edition of Declan Donnellan's bestselling book, a fresh and radical approach to acting by a world-famous director.

The remarkable true story of a young trans man's journey from Egypt to Scotland, charting his progress across borders and genders in his search for a place to call home.

Adrian Lester discusses playing Henry V. Taken from Shakespeare on Stage: Thirteen Leading Actors on Thirteen Key Roles.

A host of tips and guidance on every aspect of the actor's craft, direct from some of the best-known stars of stage and screen, including Julie Walters, Lenny Henry, Harriet Walter, Simon Callow, Mark Gatiss, David Harewood, Jo Brand, Simon Russell Beale, Lesley Manville, Zawe Ashton and Mathew Horne, amongst many others.

A dramatisation of the extraordinary life of Jean Rhys, in which themes of femininity, literature and hysteria and madness collide with vivid force.

Rattigan's brilliant attack on the hedonistic lifestyle of the 'bright young things' of the 1920s and 30s.

A touching and comic drama about a family reunion, delving into the turmoil, love and compromises of kinship.

A turbulent black comedy about love, loneliness and how we shape our future.

There is limited availability of this title. Please

enquire

before placing your order.

Alan Rickman discusses playing Jaques in Shakespeare's As You Like It, in this ebook taken from Shakespeare On Stage: Volume 2 - Twelve Leading Actors on Twelve Key Roles.