Staging: can be simply staged
Amateur rights performance fee: £75 per performance (plus VAT where applicable)
Paperback,
56 pages
ISBN: 9781848425446
Publication Date:
15 Oct 2015
Size: 198mm x 129mm
£8.99 £7.19
You save £1.80 (20%)
EPUB,
56 pages
ISBN: 9781780016757
Publication Date:
15 Oct 2015
£8.99 £7.19
You save £1.80 (20%)
Joanne
Five characters share a common thread: Joanne. But it's not about her. It's about Stella, whose tomorrow is as far away as winter from summer. It's the way Grace finds her song on the footpath between two cars. It's about Alice's MBA wasted on plugging holes, Kath's patients crawling alongside her after the night shift and it's Becky caught in the crosshairs of what's best and what's right for her students.

But what about her? What about Joanne?

In Joanne, five of the most exciting voices in theatre explore the pressures on our public services as one young woman buckles under pressures of her own.
The play comprises five interconnected short plays for a solo performer, written by Deborah Bruce, Theresa Ikoko, Laura Lomas, Chino Odimba and Ursula Rani Sarma.

Commissioned by Clean Break, Joanne premiered at Latitude Festival in 2015, before transferring to Soho Theatre, London.
Note for Performers: This play can be performed in its entirety as a full-length play for £75 plus VAT, or each short play can be performed on its own, for £20 plus VAT per performance. The five different women can be played by one performer, as in the original production, or by five different performers.
Press Quotes
'Intense and uncompromising... the quality of writing is intriguing throughout'
WhatsOnStage
'Powerful… drives home the tragedy at the piece's core'
Time Out
'Both personal and universal'
Exeunt
Staging:can be simply staged
Amateur rights performance fee: £75 per performance (plus VAT where applicable)
Paperback,
56 pages
ISBN: 9781848425446
Publication Date:
15 Oct 2015
Size: 198mm x 129mm
£8.99 £7.19
You save £1.80 (20%)
EPUB,
56 pages
ISBN: 9781780016757
Publication Date:
15 Oct 2015
£8.99 £7.19
You save £1.80 (20%)
Also by Theresa Ikoko: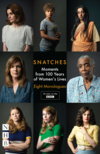 Also by Chinonyerem Odimba: