Ebook,
151 pages
ISBN: 9781788504768
Publication Date:
28 Oct 2021
£12.99 £10.39
You save £2.60 (20%)
Papatango Plays
Three Prize-Winning Plays
Three urgent and compelling plays, joint winners of the 2021 New Writing Prize awarded by acclaimed theatre company Papatango, in partnership with English Touring Theatre.
Some Of Us Exist In The Future by Nkenna Akunna
Fresh off the plane from the UK, Chiamaka is new to Brooklyn and its extremes. She's new to queer dating, to the realities of being an immigrant. Most of all, she's new to the voices of the gods… Utterly original, wryly funny and always gripping, Some Of Us Exist In The Future follows one woman's search for a place to belong in a world that's not all it seems.
Ghost Stories from an Old Country by Tajinder Singh Hayer
Amar's older brother Dalvir has always told a good ghost story – properly unsettling, dark tales that send a chill right through Amar's soul. But now Dalvir's almost a ghost himself, cloistered and secretive. Amar desperately wants his brother back, but can he unravel Dalvir's stories to reconnect with the only family he has left? Ghost Stories from an Old Country is a riveting and poignant exploration of the ties that bind us, threaded through with captivating fables.
The Silence and The Noise by Tom Powell
Every teenager knows what it's like to be stuck between things: childhood and maturity, innocence and experience, hope for the future and uncertainty about what it might bring. But Daize is torn between even greater challenges: her love for her vulnerable mother and her dangerous friendship with Ant. An outsider with knockout trainers, Ant has just appeared on her doorstep, bringing with him a whole world of trouble. The Silence and The Noise beautifully captures the story of two young people on the edge.
All three plays were produced and premiered by Papatango and English Touring Theatre in 2021 as audio plays, presented to audiences via specially designed audio stations that toured UK theatres.
'Remarkable unearthers of new talent' Evening Standard on Papatango
'Astonishingly brilliant… one of the best debut plays I have ever seen' BBC Radio 4's Saturday Review on Shook by Samuel Bailey, winner of the 2019 Papatango New Writing Prize
Press Quotes
'The quality is unquestionable... Ghost Stories from an Old Country intriguingly blends seasonably spooky stories with themes of depression, fraternal frustration and existential angst... Some of Us Exist in the Future is captivating and intense... The Silence and the Noise is a modest masterpiece'
The Stage
Ebook,
151 pages
ISBN: 9781788504768
Publication Date:
28 Oct 2021
£12.99 £10.39
You save £2.60 (20%)
Also by Nkenna Akunna: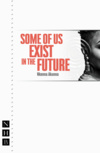 Also by Tajinder Singh Hayer:
Also by Tom Powell: