Nicholas Wright

Nicholas Wright is a leading British playwright. His plays include: 8 Hotels (Minerva Theatre, Chichester, 2019); an adaptation of Patrick Hamilton's novel The Slaves of Solitude (Hampstead Theatre, 2017); an adaptation of Pat Barker's novel Regeneration (Royal & Derngate, Northampton, 2014); Travelling Light (National Theatre, 2012); The Last of the Duchess (Hampstead Theatre, 2011); Rattigan's Nijinsky (Chichester Festival Theatre, 2011); The Reporter (National Theatre, 2007); a version of Emile Zola's Therese Raquin (National Theatre, 2006); an adaptation of Philip Pullman's His Dark Materials (National Theatre, 2003-4); Vincent In Brixton (National Theatre, 2002; winner of the Olivier Award for Best New Play); a version of Luigi Pirandello's Naked (Almeida Theatre, 1998); and Mrs Klein (National Theatre & West End, 1988).
His writing about the theatre includes Changing Stages: A View of British Theatre in the Twentieth Century, co-written with Richard Eyre.
Showing 1-12 of 21 items.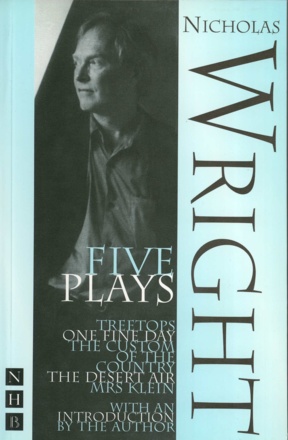 A rich selection of work by leading playwright Nicholas Wright, introduced by the playwright.
A moving portrait of the young Vincent van Gogh - a hit in the West End and on Broadway.

A play about the early resistance to policies of apartheid or racial segregation in Cape Town, South Africa, in the 1950s.

A funny and fascinating tribute to the Eastern European immigrants who became major players in Hollywood's golden age.

Nicholas Wright's version of Chekhov's masterpiece, in which four young people are left stranded in a provincial backwater following the death of their father.

A gripping psychological thriller adapted for the stage by Émile Zola himself from his own notorious novel, in a version by Nicholas Wright.

A fascinating blend of dark hilarity and melancholy, woven from Patrick Hamilton's much-loved story about an improbable heroine in wartime Britain.

An enthralling detective story based on the true life story of BBC reporter James Mossman.

A powerful anthem for the youth of World War One that offers a compassionate look at war and its devastating effects. Adapted from Pat Barker's Booker Prize-nominated novel.

The extraordinary story of the relationship between the famous dancer Vaslav Nijinsky and the impresario Sergei Diaghilev, drawing on an unproduced screenplay by Terence Rattigan.

A play about the gulf that separates Britain and Black Africa.

Pirandello's ingenious detective story about a young woman who is hounded by the press after the death of a child in her care..