Paperback,
128 pages
ISBN: 9781770919907
Publication Date:
26 May 2022
Size: 194mm x 130mm
£24.99
Birds of a Kind
Paperback £24.99
There is limited availability of this title. Please
enquire
before placing your order.
Governor General's Literary Award - 2019
Is it really important to cling to our lost identities?
A terrorist attack in Jerusalem puts Eitan, a young Israeli-German genetic researcher, in a coma, while his girlfriend Wahida, a Moroccan graduate student, is left to uncover his family secret that brought them to Israel in the first place. Since Eitan's parents erupted at a Passover meal when they realized Wahida was not Jewish, he has harboured a suspicion about his heritage that, if true, could change everything.
In this sweeping drama from the award-winning Lebanese-Canadian playwright Wajdi Mouawad, the Israeli-Palestinian conflict hits close to home as a straitlaced family is forced to confront everything they know about their identities.
Birds of a Kind won the Canadian Governor General's Literary Award in 2019.
This edition from Playwrights Canada Press is an English-language translation of the play by Linda Gaboriau.
Press Quotes
'A vivid and vaulting multigenerational Middle East-set drama... challenging and complex... full of richness and raw emotion'
Globe and Mail
Paperback,
128 pages
ISBN: 9781770919907
Publication Date:
26 May 2022
Size: 194mm x 130mm
£24.99
Also by Wajdi Mouawad: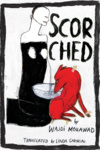 Also by Linda Gaboriau: