Paperback,
272 pages
ISBN: 9781839040405
Publication Date:
16 Nov 2023
Size: 216mm x 138mm
£12.99 £10.39
You save £2.60 (20%)
Ebook,
272 pages
ISBN: 9781788507578
Publication Date:
16 Nov 2023
£12.99 £10.39
You save £2.60 (20%)
Running the Room
Conversations with Women Theatre Directors
Order your copy of Running the Room today and receive a set of free exclusive postcards – scroll down to see more!
---
Our most brilliant, fearless and creative women directors open the door on their craft, discussing their work in the theatre in intimate and illuminating detail.
Through a series of fascinating conversations with many of the leading talents working on British stages, Running the Room explores what it takes to succeed in the field, and how each director approaches the work in their own way.
Each interview focuses on a particular facet of the director's practice, examining not just the 'how' – how to talk to actors, how to create the right rehearsal environment, how to handle cuts and previews, how to work with a living playwright – but also the 'why': why certain approaches work better than others, why there's no 'right' way to direct a play, and why work in theatre anyway?
As this passionate, inspiring book shows, there are myriad ways to be a theatre director. For aspiring or current directors, it will give you the confidence to be uniquely yourself, develop your own approach, and create the work you want to make. For creatives in other disciplines, it will provide insight into directors' processes, along with examples of successful collaboration. And for anyone who loves theatre, this is an unparalleled first-hand account of how brilliant theatre is made – direct from those making it.
With contributions from:
Natalie Abrahami • Annabel Arden • Milli Bhatia • Carrie Cracknell • Tinuke Craig • Marianne Elliott • Nadia Fall • Yaël Farber • Vicky Featherstone • Jamie Fletcher •  Sarah Frankcom • Emma Frankland • Rebecca Frecknall • Debbie Hannan • Tamara Harvey • Natalie Ibu • Ola Ince • Lynette Linton • Nancy Medina • Katie Mitchell • Rachel O'Riordan • Emma Rice • Indhu Rubasingham • Jenny Sealey
---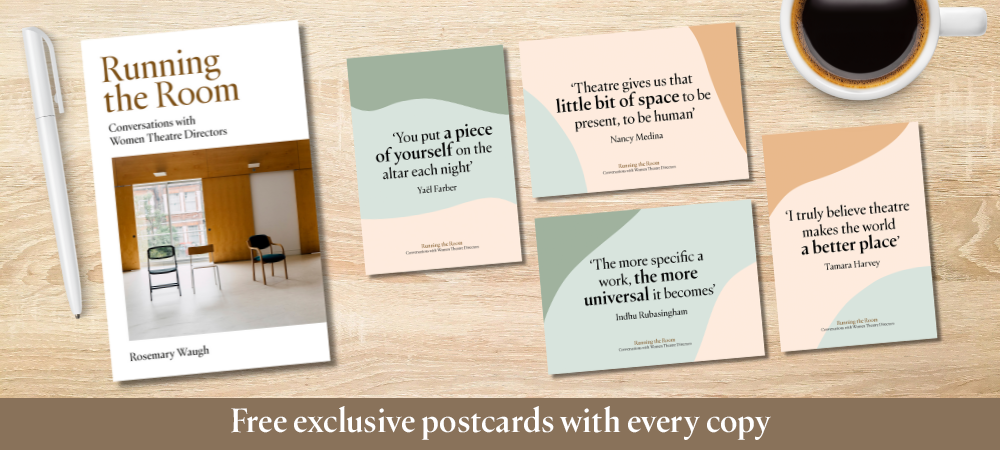 Order your copy of Running the Room direct from this website and you'll receive a set of free exclusive postcards, featuring thoughtful and inspiring quotes by some of the brilliant theatre directors featured in the book.
These are available only while stocks last, so order today to avoid disappointment! 
---
Blog Post: 'Why did I write a book about women theatre directors? Because it didn't exist'. Rosemary Waugh on Running the Room. Read more on our blog>>
Press Quotes
'An excellent book'
Lyn Gardner - The Stage
'A goldmine of insight on the multifarious art of directing, the skill of leadership, and the joys and challenges of constructing a career in theatre as a woman… the list of interviewees reads like a who's who of influential directors… brims with fascinating discussions of creative practice, illuminating discourse on running buildings and companies, and thought-provoking comments on contemporary theatre'
Fergus Morgan - The Crush Bar
Paperback,
272 pages
ISBN: 9781839040405
Publication Date:
16 Nov 2023
Size: 216mm x 138mm
£12.99 £10.39
You save £2.60 (20%)
Ebook,
272 pages
ISBN: 9781788507578
Publication Date:
16 Nov 2023
£12.99 £10.39
You save £2.60 (20%)