Cast: 3 monologues, up to 1f 2m
Staging: various interior settings, can be simply staged
Performing rights not held by Nick Hern Books
Amateur rights performance fee: £85 per performance (plus VAT where applicable)
Paperback,
96 pages
ISBN: 9781848427358
Publication Date:
11 Jan 2018
Size: 198mm x 129mm
£12.99 £10.39
You save £2.60 (20%)
EPUB,
96 pages
ISBN: 9781788500128
Publication Date:
11 Jan 2018
£12.99 £10.39
You save £2.60 (20%)
Heretic Voices
Three Award-winning Monologues
This volume presents the best new writing in monologue form, celebrating unique voices with exceptional stories to tell. These three plays, finalists in the inaugural Heretic Voices competition, were first performed at the Arcola Theatre, London, in 2018.
Set in Croydon, South London, Dean McBride by Sonya Hale is a vivid and poetic story of deprivation, loss and redemption through love, which tells the story of Dean, a young man hardened by suffering, who struggles in life before finding his way back to happiness.
A university professor is caught in a storm when an image of her in a changing room is shared online. Exploring how images of women are represented in art and social media, Annie Fox's Woman Caught Unaware is a searing examination of the culture of body-shaming.
Depicting a teenage girl's solo journey to the North Pole with her father's ashes, A Hundred Words for Snow by Tatty Hennessy is a complex, epic and undulating story that pitches themes of death and rebirth against a shifting backdrop of climate change, exploration and the uncertain geography of the North.
This collection includes a foreword from actor and playwright Lolita Chakrabarti, one of the judges of the competition, which was organised by Heretic Productions.
Press Quotes
'Three exceptional plays… powerful, emotional, rage-filled works that rail against injustice but contain tenderness, humour and passion… it's a pleasure to witness this simple, powerful storytelling'
LondonTheatre1
'A whole theatrical season condensed into an evening'
Exeunt Magazine
'Inspiring… a poetic assembly indeed'
A Younger Theatre
Cast: 3 monologues, up to 1f 2m
Staging:various interior settings, can be simply staged
Performing rights not held by Nick Hern Books
Amateur rights performance fee: £85 per performance (plus VAT where applicable)
Paperback,
96 pages
ISBN: 9781848427358
Publication Date:
11 Jan 2018
Size: 198mm x 129mm
£12.99 £10.39
You save £2.60 (20%)
EPUB,
96 pages
ISBN: 9781788500128
Publication Date:
11 Jan 2018
£12.99 £10.39
You save £2.60 (20%)
Also by Sonya Hale: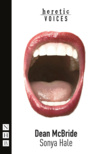 Also by Annie Fox: