Paperback,
104 pages
ISBN: 9781839041341
Publication Date:
8 Dec 2022
Size: 198mm x 129mm
£10.99 £8.79
You save £2.20 (20%)
Ebook,
104 pages
ISBN: 9781788506311
Publication Date:
8 Dec 2022
£10.99 £8.79
You save £2.20 (20%)
Orlando (stage version)
From a teenage encounter with Elizabeth I, through infatuations, voyages and even a change of gender, Orlando lives out five centuries of life and love before they finally find the courage to truly be themselves.
Neil Bartlett's sparkling adaptation of Virginia Woolf's famous fantasy finds powerful contemporary relevance in her vision of equal rights to love for bodies of every kind – and brings it to life on the stage with a kaleidoscope of theatrical styles, overseen by the haunting figure of Woolf herself.
It premiered at the Garrick Theatre in London's West End in November 2022, in a production directed by Michael Grandage and starring Emma Corrin in the title role. Written for a diverse ensemble of nine or more actors, this adaptation will appeal to any theatre or company looking to entertain their audiences with a bold new take on this iconic tale of love and transformation.
'Nothing is any longer one thing.'
Press Quotes
'Radiates gleeful intelligence, rampaging heart and tremendous fun. It couldn't feel more timely, and it's glorious'
Guardian
'Theatre to make the heart leap... this vivid, glittering drama achieves not just the improbable, but the almost impossible: it captures the brilliance of Woolf's mind, the daring of her transgressive vision and the lush gorgeousness of her prose, and refracts it on the stage in an exquisite rainbow of prismatic colour... a play that is at once a delectable queer fantasia and a freewheeling intellectual joyride through the intertwined complexities of life, literature, identity and the creative process... a blazing beacon to progress, to possibility, to freedom and the power of imagination'
The Stage
'Neil Bartlett's fleet-footed, wildly imaginative but wonderfully disciplined adaption shines literal and metaphorical light on contemporary ideas of identity... an outstandingly original theatrical pleasure'
Variety
'Joyful and groundbreaking... a triumph'
Independent
'Neil Bartlett's adaptation captures all [the novel's] sexiness and spirit... it's splendid in every sense: passionate, camp as Christmas and as warmly celebratory, too'
iNews
'An adaptation full of joy and hope and sense of possibility for the future'
WhatsOnStage
'Neil Bartlett's funny but moving adaptation... a frisky romp, wittily engaging with today's debate about gender fluidity... a joyous ode to freedom'
Daily Mail
Paperback,
104 pages
ISBN: 9781839041341
Publication Date:
8 Dec 2022
Size: 198mm x 129mm
£10.99 £8.79
You save £2.20 (20%)
Ebook,
104 pages
ISBN: 9781788506311
Publication Date:
8 Dec 2022
£10.99 £8.79
You save £2.20 (20%)
Also by Virginia Woolf: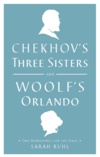 Also by Neil Bartlett: