Paperback,
160 pages
ISBN: 9781848420236
Publication Date:
12 Mar 2009
Size: 162mm x 107mm
£4.99 £3.99
You save £1.00 (20%)
Ebook,
160 pages
ISBN: 9781788502429
Publication Date:
24 Oct 2019
£4.99 £3.99
You save £1.00 (20%)
Fuente Ovejuna
Drama Classics: The World's Great Plays at a Great Little Price

A masterpiece by one of the greatest writers of the Spanish Golden Age.
When the people of the town of Fuente Ovejuna revolt against their tyrannical overlord and murder him, the authorities attempt to find out who is responsible, leading to one of the most memorable acts of resistance in world drama.
First published in Madrid in 1619, Lope de Vega's play Fuente Ovejuna is believed to have been written between 1612 and 1614.
This edition in the Nick Hern Books Drama Classics series is an English translation by Laurence Boswell.
Press Quotes
'Thrilling and moving, accessible and unusual, raw and intensely sophisticated'
Chicago Tribune
Paperback,
160 pages
ISBN: 9781848420236
Publication Date:
12 Mar 2009
Size: 162mm x 107mm
£4.99 £3.99
You save £1.00 (20%)
Ebook,
160 pages
ISBN: 9781788502429
Publication Date:
24 Oct 2019
£4.99 £3.99
You save £1.00 (20%)
Also by Lope de Vega: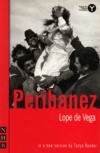 Also by Laurence Boswell: