Paperback,
96 pages
ISBN: 9781854595737
Publication Date:
18 Oct 2007
Size: 199mm x 131mm
£8.99 £7.19
You save £1.80 (20%)
EPUB,
96 pages
ISBN: 9781780017549
Publication Date:
2 Jun 2016
£8.99 £7.19
You save £1.80 (20%)
Faustus
A radical reworking of Christopher Marlowe's classic tragedy Dr Faustus, bringing together the original story of the man who sells his soul to the devil with a startling act of provocation by 21st-century artists the Chapman Brothers.
Heidelberg, Germany, 1509. John Faustus, doctor and scholar, pledges himself to the dark art of necromancy and vows to conjure the devil. So begins his descent into a world of demons and angels, a journey across space and time and a blood pact which jeopardises his eternal soul...
Hoxton, London, 2001. Jake and Dinos Chapman, artists and provocateurs, prepare to break the ultimate taboo, by 'rectifying' a priceless set of etchings by Francisco Goya. Confronting an act which cannot be undone, a statement of intent which cannot be taken back, the Brothers' world changes forever...
Two universes collide as Faustus and the Chapmans challenge the limits of life and art, risking everything in their pursuit of immortality.
Rupert Goold and Ben Power's play Faustus was first staged at the Royal Theatre, Northampton, in 2004, and was revived by Headlong at Hampstead Theatre in 2006.
Press Quotes
'Devilishly suggestive'
Independent
'Radical... provocative... ingenious'
Guardian
'A triumph... a smorgasbord of theatrical delights'
Evening Standard
'Wild, mad, deeply intelligent and thought-provoking... see this play'
Sunday Times
Paperback,
96 pages
ISBN: 9781854595737
Publication Date:
18 Oct 2007
Size: 199mm x 131mm
£8.99 £7.19
You save £1.80 (20%)
EPUB,
96 pages
ISBN: 9781780017549
Publication Date:
2 Jun 2016
£8.99 £7.19
You save £1.80 (20%)
Also by Rupert Goold: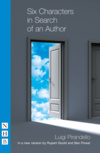 Also by Christopher Marlowe: