Paperback,
448 pages
ISBN: NHB84842bd2
Publication Date:
3 Dec 2020
Size: 198mm x 129mm
£30.00
Acclaimed Debut Plays (NHB Gift Bundle)
Four playscripts for £30, beautifully handwrapped
Paperback £30.00
There is limited availability of this title. Please
enquire
before placing your order.
Click the 'Add to Basket' button above to purchase this Gift Bundle.
Once you have completed checkout, you'll receive an email from us asking you to provide the details and delivery address of the recipient, plus whether you'd like to include a personalised, handwritten message.
Please note these bundles are currently only available to purchase online for UK customers – if you are an international customer and would like to order a Gift Bundle, please contact info@nickhernbooks.co.uk.
---
Our Acclaimed Debut Plays Gift Bundle brings together the breakthrough plays of four brilliant playwrights, all of which announced the arrival of major new talents and proved that sometimes the first time really is the charm.  
Your Gift Bundle will be delivered beautifully wrapped, ready for your lucky recipient (or for you to stick under the tree for yourself!). You'll also have the option to add a personalised note – handwritten by us – on an NHB-branded gift tag, so you can include a special message for your loved one, friend, colleague, teacher, student, or whoever you're giving the Gift Bundle to.
All of this costs just £30 (combined RRP of the plays: £39.96).
See more about our Gift Bundles here.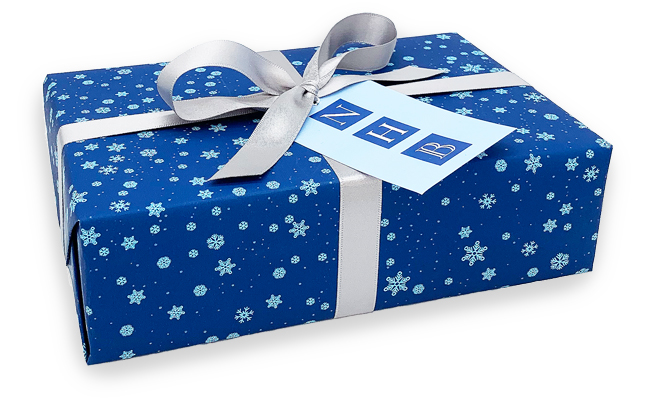 What's inside? 
This Acclaimed Debut Plays bundle includes the following four playscripts:
In the seedy gangster underworld of the 1950s rock'n'roll scene, club owners fight for control of Johnny Silver, the latest young sensation, in this hilariously dark comedy by the author of Jerusalem and The Ferryman.
A massive hit when it first premiered at the Royal Court, London, in 1995, Mojo went on to win numerous prizes including the Olivier Award for Best New Comedy.
'Wickedly funny, incredibly dark... a combination of strong plotting and zinging dialogue [makes] this play addictive and disconcerting' Telegraph
The average person will speak 123,205,750 words in a lifetime. But what if there were a limit? Oliver and Bernadette are about to find out.

Funny and thought-provoking, Sam Steiner's ingenious debut play imagines a world where we're forced to say less. It's about what we say and how we say it; about the things we can only hear in the silence; about dead cats, activism, eye contact and lemons, lemons, lemons, lemons, lemons.
Lemons Lemons Lemons Lemons Lemons was a breakout hit at the 2015 Edinburgh Fringe – having already picked up three prizes at the National Student Drama Festival. It has since returned for additional runs, as well as being produced in London and elsewhere.
'A beautiful play about the beauty and preciousness of language… about as promising as debuts get' Time Out London
A tender and honest play examining the young men society shuts away.
Instead of GCSEs, Cain, Riyad and Jonjo got sentences. Locked up in a young offender institution, they trade sweets, chat shit, kill time – and await fatherhood. Grace's job is to turn these teenagers into parents, ready to take charge of their futures. But can they grow up quickly enough to escape the system?
Winner of the Papatango New Writing Prize 2019, Shook premiered at Southwark Playhouse, London, before embarking on a UK tour. It is currently being adapted for film, to be released in 2021.
'A remarkably accomplised debut play... with this nuanced, sensitive and funny portrait of the complicated relationship between masculinity and trauma, there's a palpable sense that [Bailey] is a major talent to be reckoned with' Evening Standard
A sensitive, delicate and powerful play that asks what our labour is worth and how life can be lived when the system is stacked against you.
Wish List won the Bruntwood Prize for Playwriting and earned its author The Stage Debut Award for Best Writer. First seen at Manchester's Royal Exchange in 2016, before transferring to the Royal Court, London, its depiction of the human demands of online commerce and the cruelties of the benefits system are maybe even timelier now.
'The writing is extraordinary: deceptively lightweight while filtering personal and social issues through carefully nuanced characters... [a] compassionate, funny and quietly troubling debut' The Stage
Paperback,
448 pages
ISBN: NHB84842bd2
Publication Date:
3 Dec 2020
Size: 198mm x 129mm
£30.00