Amateur rights performance fee: £85 per performance (plus VAT where applicable)
Paperback,
96 pages
ISBN: 9781854593290
Publication Date:
24 Apr 1998
Size: 198mm x 129mm
£10.99 £8.79
You save £2.20 (20%)
EPUB,
96 pages
ISBN: 9781780015354
Publication Date:
5 Jan 2015
£10.99 £8.79
You save £2.20 (20%)
Jane Eyre (Shared Experience stage version)
Professional Production On Stage at:
Courtyard Theatre, Hereford
From Tue 4 Oct 2022 to Sat 8 Oct 2022
A bold and theatrically inventive adaptation of the literary classic that puts the interior life of the novel on stage.
As a child, the orphaned Jane Eyre is taught by a succession of severe guardians to stifle her natural exuberance. A part of herself is locked away, out of view of polite society... until she arrives at Rochester's house as a governess to his young child. Soon Rochester's passionate nature reawakens Jane's hidden self, but darker secrets are stirring in the attic...
Polly Teale's adaptation of Charlotte Bronte's Jane Eyre was first performed by Shared Experience Theatre Company in 1997.
Press Quotes
'Polly Teale has liberated Jane Eyre in a way that Charlotte Brontë could not... Her most inspired idea is to fuse the mad woman in the attic with Jane's younger self'
Observer
'Puts the interior life of the book on stage as well as its narrative. Adaptations of this quality can't be dismissed as a poor second to reading the book'
Time Out
'One of the finest and most searching stage adaptations I have ever seen... this Jane Eyre succeeds as both a wise distillation of the novel and a thrilling piece of theatre in its own right'
Daily Telegraph
Amateur rights performance fee: £85 per performance (plus VAT where applicable)
Paperback,
96 pages
ISBN: 9781854593290
Publication Date:
24 Apr 1998
Size: 198mm x 129mm
£10.99 £8.79
You save £2.20 (20%)
EPUB,
96 pages
ISBN: 9781780015354
Publication Date:
5 Jan 2015
£10.99 £8.79
You save £2.20 (20%)
Also by Charlotte Brontë: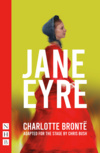 Also by Polly Teale: