Cast: 4f 9m 1f/m (1f 4m doubling)
Staging: Minimal requirements (can be simply staged)
Amateur rights performance fee: £75 per performance (plus VAT where applicable)
Paperback,
72 pages
ISBN: 9781839040481
Publication Date:
25 Nov 2021
Size: 198mm x 129mm
£9.99 £7.99
You save £2.00 (20%)
EPUB,
72 pages
ISBN: 9781788504898
Publication Date:
25 Nov 2021
£9.99 £7.99
You save £2.00 (20%)
1984 (stage version)
Winston Smith is in prison, found guilty of Thoughtcrimes against Big Brother. As part of his reconstruction, he must re-enact key moments from his past life, with the help of other thought criminals, so that everyone can learn from his mistakes. Including his biggest mistake of all: falling in love with Julia.
George Orwell's classic dystopia 1984 is a still-resonant vision of the tolls of living under totalitarianism. Constructed almost entirely from dialogue taken from the original novel, this bold and powerful dramatisation restores the blazing heart of Orwell's work: a doomed love story, with the lovers at its centre.
This pre-eminently stageable version, adapted with an eye on economy by Nick Hern for a cast of five or more, is ideal for any school, youth group or amateur company looking to bring Orwell's chilling vision to life on stage.
'O'Brien! They've got you too!'
'They got me a long time ago.'
Cast: 4f 9m 1f/m (1f 4m doubling)
Staging:Minimal requirements (can be simply staged)
Amateur rights performance fee: £75 per performance (plus VAT where applicable)
Paperback,
72 pages
ISBN: 9781839040481
Publication Date:
25 Nov 2021
Size: 198mm x 129mm
£9.99 £7.99
You save £2.00 (20%)
EPUB,
72 pages
ISBN: 9781788504898
Publication Date:
25 Nov 2021
£9.99 £7.99
You save £2.00 (20%)
Also by George Orwell: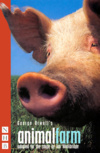 Also by Nick Hern: