Travis Alabanza
Travis Alabanza is an award-winning writer, performer and theatre-maker. Their writing has appeared on the BBC, in the Guardian, Vice and gal-dem; they had a fortnightly column in Metro, and have been featured in numerous anthologies, including Black and Gay in the UK. After being the youngest recipient of the artist-in-residency programme at Tate Galleries, Alabanza's debut show Burgerz toured internationally to sold-out performances, including at the Southbank Centre, to São Paulo, Brazil, HAU Berlin, and it won the Edinburgh Fringe Total Theatre Award in 2019. In 2020 their theatre show Overflow debuted at the Bush Theatre, London, to widespread acclaim and later streamed online in over twenty-two countries. Other works for theatre and live performance include for the Royal Court Living Newspaper, Paines Plough, Free Word Centre, Glasgow Transmission Gallery and more.
Their work surrounding gender, trans identity and race has been noted internationally, and they have given talks at universities including Oxford, Harvard and Bristol, among others. Noted for their distinct voice, in 2019 the Evening Standard listed them as one of the twenty-five most influential under twenty-five-year-olds – as well as being listed in the Dazed 100, the Guardian asking if 'they are the future of theatre', and being listed on the Forbes 30 Under 30 List.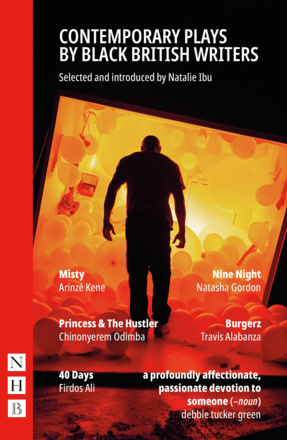 An anthology of six brilliant plays, celebrating a multiplicity of stories authored by Black playwrights in the UK over the last decade. Selected and introduced by leading theatre director Natalie Ibu.