Ebook,
42 pages
ISBN: 9781788503198
Publication Date:
20 Feb 2020
£4.99 £3.99
You save £1.00 (20%)
Take Care
An astonishing, tragic and uplifting verbatim play about the care system in the UK today.
Take Care follows the real-life story of Pam, a woman struggling to move her mother into a care home that's closer to her.
Along the way we meet other carers, NHS staff, politicians, journalists and MPs all involved in the care system for older people.
The text of the play is taken word-for-word from interviews conducted by the authors over a period of five years, together with exerpts from published press releases and public speeches.
Darkly humorous, this documentary play shines a light on the hidden voices of carers, and exposes the workings of a care system in desperate need of repair.
Zoë Templeman-Young and Sam McLaughlin's play Take Care was first created and performed in 2013, winning the Clive Barker Award (University of Warwick), with runs at both the Edinburgh Fringe and The Courtyard Theatre, London, before being revived at VAULT Festival, London, in 2020.
Take Care is also available in the volume Plays from VAULT 5.
Blog Post: VAULT 2020 writers on their plays, and what it means to be selected for VAULT Festival. Read more on our blog>>
Press Quotes
'Beautiful, heartbreaking and comical. This is more than theatre, this is real'
Scotsman
Ebook,
42 pages
ISBN: 9781788503198
Publication Date:
20 Feb 2020
£4.99 £3.99
You save £1.00 (20%)
Also by Zoë Templeman-Young: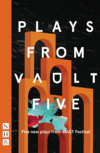 Also by Sam McLaughlin: