Plays for Young People (12-18 years)
This section lists plays that are especially suited to young people aged 12 and above, for reading, study or performance. Please note that some of the plays included here contain adult language and/or tackle challenging issues. We're always happy to advise on the suitability of any of our plays: send us an email at info@nickhernbooks.co.uk, or call us on 020 8749 4953.

See also Plays for children (under 12 years)
Showing 25-36 of 167 items.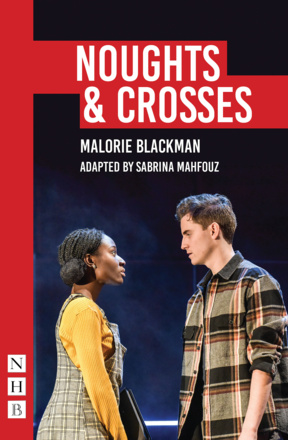 An award-winning stage adaptation of Malorie Blackman's acclaimed novel, a captivating drama of love, revolution and what it means to grow up in a divided world.
A funny, fast-paced play about identity, truth and the challenge of finding out who you really are. Part of Platform, an initiative from Tonic Theatre in partnership with Nick Hern Books, aimed at achieving greater gender equality in theatre.

A powerful, timely play featuring songs, about one girl taking control of her destiny in a world teetering on the brink. Part of Platform, an initiative aimed at achieving greater gender equality in theatre.

A thrilling play inspired by the true-crime story of the Slenderman.

A ferocious, wild and utterly exhilarating adaptation of Emily Brontë's indelible masterpiece.

A sometimes comic, sometimes heartbreaking journey into the world of autism, mixing narrative, song, dance and direct address to explore this contentious and often misunderstood subject matter.

A National Theatre Connections play about teenagers, nightlife, and the small choices that have momentous consequences.

A play about everyday feminism, consent and the changing face of teenage sexuality in an online world. Written for the National Theatre Connections Festival.

A darkly comic, smashed-up retelling of Richard III, Shakespeare's classic tale about the lust for power.

A revitalised stage adaptation of Charles Dickens's Christmas tale, by renowned author Piers Torday, focussing on Ebenezer Scrooge's sister Fan, the most monstrous miser ever known.

A brilliant adaptation of Mary Shelley's Gothic masterpiece that places the writer herself amongst the action as she wrestles with her creation and with the stark realities facing revolutionary young women, then and now.

Rudyard Kipling's beloved tale of family, belonging and identity has been reimagined in this acclaimed adaptation by Jessica Swale, with original songs by Joe Stilgoe. 

Amateur Productions


On Now & Coming Soon

---

Amanda Whittington


---

Tatty Hennessy


17 - 20 Aug 22
Leith Arches Venue, Edinburgh

---

Jessica Swale


3 - 8 Oct 22
Altrincham Garrick Playhouse

---

Alexi Kaye Campbell


27 Oct - 5 Nov 22
The Miller Centre Theatre Company, Surrey

---

Evan Placey


20 - 28 Nov 22
Summerseat Players at the Theatre Royal, Ramsbottom

---

Stef Smith


10 - 14 Jan 23
Stockport Garrick Theatre

---

Nina Raine


16 - 25 Feb 23
The Miller Centre Theatre Company, Surrey