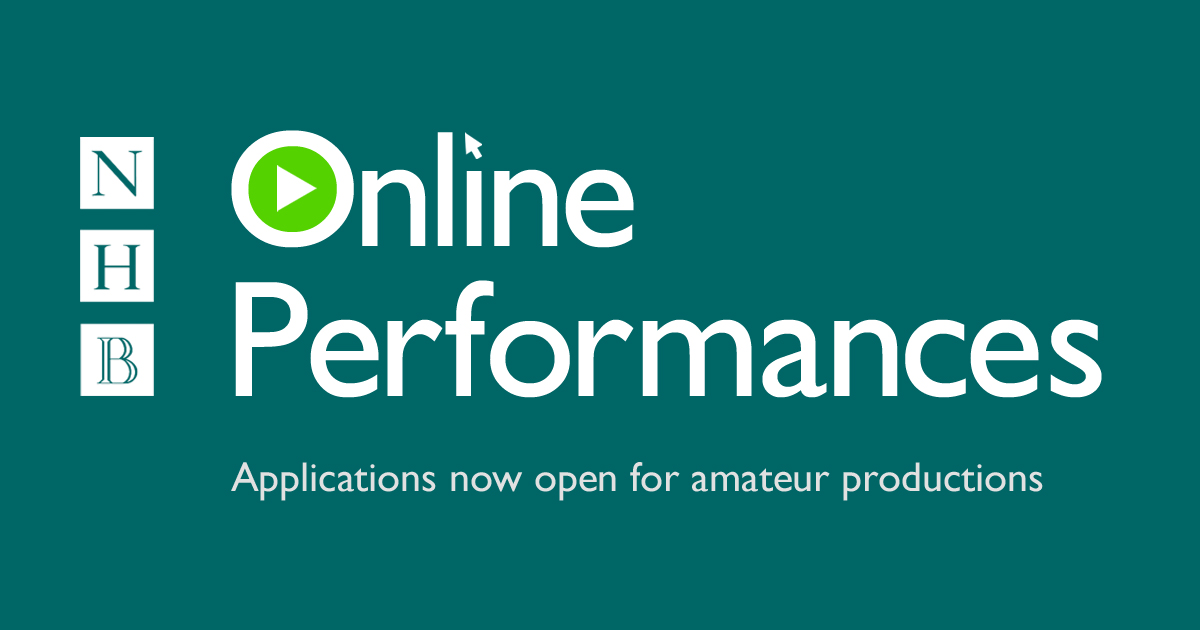 We're currently inviting applications to license Nick Hern Books plays for amateur online performance.
As we all navigate these unprecedented times, an online performance is the perfect way to bring your members or students together to keep sharing your passion, experience great new plays by today's most exciting writers, and stay active and connected. The ongoing COVID-19 pandemic, and the resulting, ever-changing restrictions, means it can be difficult to plan productions with confidence right now – and so online performances can offer certainty and peace of mind, freeing you up to focus on making fantastic theatre.

Whether you're looking to share a play you've always been passionate about (maybe even getting a former cast together for a revival!), test out a show you've had your eye on for a future, fully staged production, or try something completely different, we're here to support you in making that happen.
Online performance licences are available for both livestreamed performances and broadcasts of recorded productions. If you're able to perform your show to a physically present audience, we can also discuss options to present it online, allowing you to reduce the impact of social distancing on your audience capacity.
For more information on how the whole process works, check out:
We know there's lots to think about at the moment when planning your production – so if you have any further questions, please email our friendly Performing Rights team at rights@nickhernbooks.co.uk.
See below for some suggestions of great plays to consider for online performance. This is just a starting point, however – you can also use the Play Finder on this website to search through our full list of plays by lots of different criteria (genre, cast size, length etc.), or get in touch so we can help find the right show for you.
Please note that, as usual, you'll need to secure approval and a licence for your production. Just because a play is included in the suggestions list below doesn't mean it's automatically available, and all applications will be considered on a case-by-case basis. Once you're ready to apply for your online performance licence, start by filling out this form.
We want to say a huge thanks to all of the brilliant authors and agents who've worked hard with us to make these online performances possible.
Showing 29-56 of 82 items.
A powerful play about the growing culture of human exploitation in the UK, delving below the surface to reveal a personal account of life as a migrant worker.
A deliciously wicked comedy that proves that the female of the species is not only deadlier, but funnier than the male.

A haunting and funny play about bereavement, brotherhood and breaking away from your past.

A fast-moving, touchingly funny play about two very different women, both having a very bad day.

A darkly comic drama of buried secrets and new beginnings, with three linked scenes all set in the same terraced house.

A darkly comic, spell-binding dystopian drama, winner of the 2011 Papatango New Writing Prize.

A provocative play that invites us to spy on a family as they embark on a dangerous new way to live.

A frank and funny new play about friendship, feminism and what it means to be successful.

A moving and darkly comic story of an Afghanistan veteran's search for redemption, and a fascinating insight into the plight of ex-servicemen in modern Britain.

A play about the intersecting lives of four women, and their power to change the course of English history. Part of Platform, an initiative aimed at addressing gender imbalance in theatre.

A gritty adaptation of Dickens' least sentimental love story with a cast of some of his most unforgettable characters.

A powerful, timely play featuring songs, about one girl taking control of her destiny in a world teetering on the brink. Part of Platform, an initiative aimed at achieving greater gender equality in theatre.

A moving, funny and charming play that takes you through decades of history seen through the eyes of one village resident.

An unsettling play about infidelity seen from the perspective of the three women involved: the wife, the lover and the daughter.

A hilarious new spin on the Hollywood romcom featuring two proposals, two weddings, an elopement and a cast of unforgettable characters.

A bold and theatrically inventive adaptation of the literary classic that puts the interior life of the novel on stage.

A modern classic about one woman's struggle to come to terms with her past - brutally separated from her German Jewish parents at the age of 9 and brought to England with the promise of a new life...

Work, love and life are just one long, hard slog for the fish-filleting foursome Pearl, Jan, Shelley and Linda. But their fortunes are set to change when Linda finds tickets to Ladies' Day at Royal Ascot the year it relocated to York.

A funny, touching and at times savage portrait of a family loosing its grip, examining the fate of the revolutionary generation.

A play about what we say and how we say it; about the things we can only hear in the silence; about dead cats, activism, eye contact and lemons, lemons, lemons, lemons, lemons.

An adaptation for the stage of this modern children's classic by the best-selling author and 2005 Children's Laureate.

An offbeat love story about Mr Tutti Frutti, a stuffed owl and the struggle to fit in.

A powerful expressionist drama from the 1920s about the dependent status of women in an increasingly mechanised society, based on the true story of Ruth Snyder.

A bold new version of the classic tragedy by one of Britain's hottest playwrights.

A bold reimagining of Hans Christian Andersen's tale of love, loss and desire, transported to a contemporary setting.

The tragic story of how Rudyard Kipling sent his son to his death in the First World War.

Jessica Swale's play Nell Gwynn charts the rise of an unlikely heroine, from her roots in Coal Yard Alley to her success as Britain's most celebrated actress, and her hard-won place in the heart of the king.

A comedy drama about being young, working in a shit job, living in debt, and all the funny and sad things you do to cope.