News
Previous News »
Showing 19-24 of 69 items.
NHB Most Performed Plays in 2017
Looking for inspiration? Here are some tried-and-tested plays to guarantee a sure-fire hit, have a look at this best-selling selection.
These are the most-performed plays from the first half year of 2017. As you can see Jessica Swale is contesting Amanda Whittington for the place at the top of the pyramid now. We are very proud that the top five most performed plays were all written by women, and that the ratio of female vs male playwrights overall is 7 to 3, again bucking the overall industry trend!
You must all have read Lucy Kerbel's All Change Please and made your programming decisions accordingly! Or possibly the reason for our women writer's success was that they have written plays with wonderful strong roles for women, which, as we all know, are always high in demand.
The plays include Nell Gwynn who is topping the charts with its quick-witted central character, tales of female friendship in Ladies' Day and Di and Viv and Rose to a group of students fighting for equal rights to education in Blue Stockings. There is also a great selection of fairy tales, comedies and historical drama - take your pick!
Here is the full list, in order of popularity:
We are so pleased to announce that our newsletter has had a make-over and we now bring you a very attractive early bird discount of a whopping 30% on the performing licence fee for selected plays and new releases. The offer is valid for 90 days after being announced on the newsletter. You merely have to commit (and purchase the rights) to a production before the deadline, regardless of when it will take place. Our line-up includes a mix of the most exciting new releases fresh from their professional premieres, established hits, and shows you may not have heard of yet but are bound to love! We also highlight a book of the month. So do make sure you are signed up to our mailing list here and spread the word on social media. To find out which plays are currently on offer have a look here.

Our new Plays to Perform brochure features a wide selection of new releases and many of our most popular plays, and is FREE to browse online - or we'll even send you a copy by post if you'd prefer.
Whatever you're looking for, you're sure to find it here, whether it's a crowd-pleasing comedy, a musical, a historical drama, something with great roles for women or a play with lots of parts for younger performers. Also included are candid reviews from amateur companies who have staged the plays to give you a feel for what they're like in performance.
Why not have a browse now...
If you'd prefer us to send you a FREE copy in the post, email us at PerformingRights@nickhernbooks.co.uk with your address.
And remember, if you want specific advice or guidance, you can always contact our Performing Rights department by telephone on 020 8749 4953.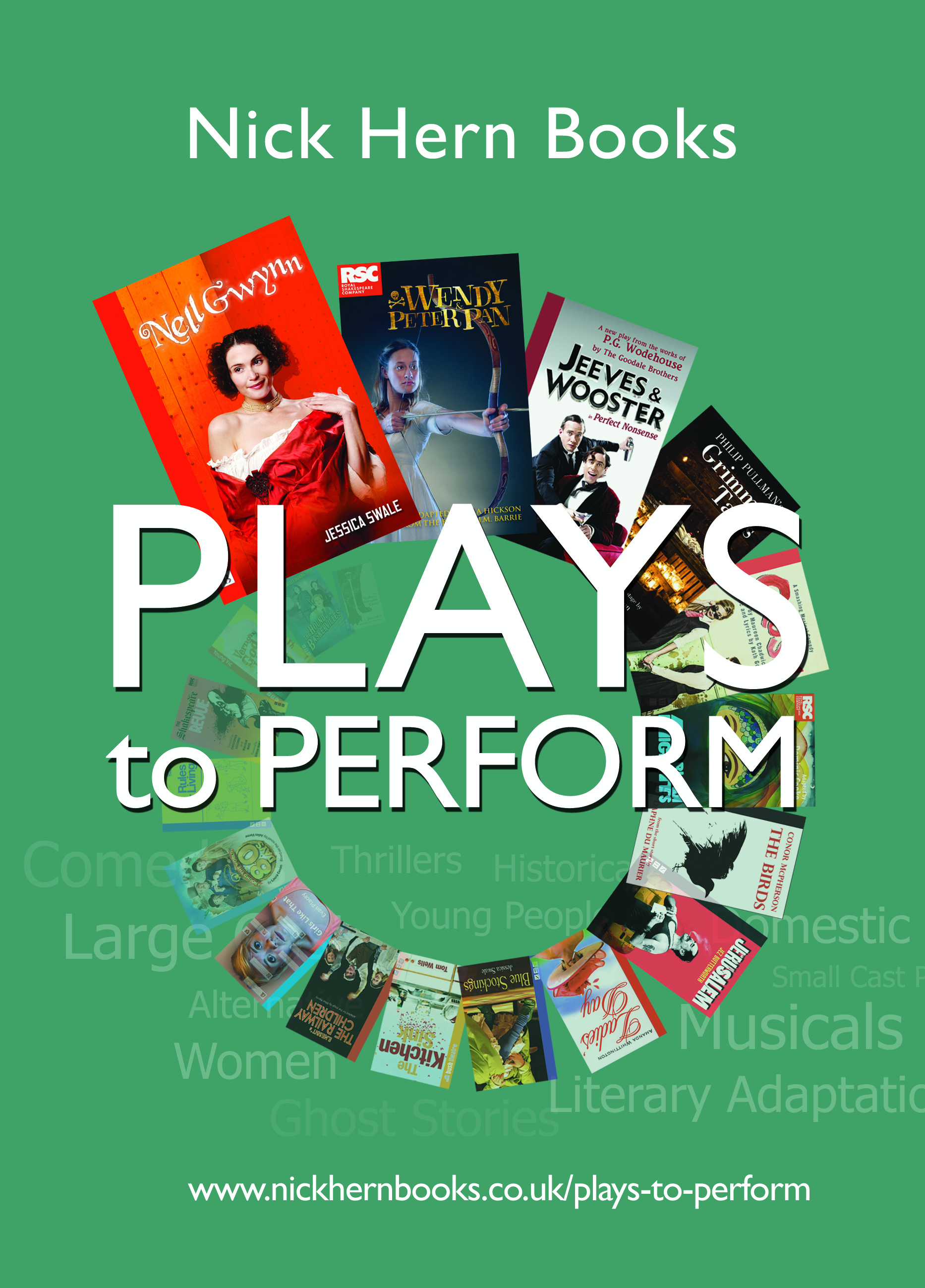 Tamara von Werthern was invited as a panel speaker to the event Reflecting on Amateur Theatre Research at Royal Holloway in London alongside Lyn Gardner (Guardian), Ian Wainwright (RSC) and Jill Cole (Castle Players) Read her blog account of the day, which took in the panel discussion, various workshops, group discussions and a rather surprising performance piece at the end. To read the blog piece, please click here.
We are delighted announce that the music by Laura Forrest-Hay to accompany Jessica Swale's hit play Blue Stockings is now available to license from Nick Hern Books.
The music was written to accompany a production of the play at RADA (Royal Academy of Dramatic Art) in 2012, and can be licensed to amateur companies wishing to use it to accompany their own performances of the play.
To listen to a short trailer containing extracts from the score, visit our SoundCloud page here.
The music is available as pre-recorded sound files that can be played alongside your production, at the very competitive rate of only £15 plus VAT per performance.
Alternatively, composer Laura Forrest-Hay will consider requests to create a new score, tailored to your own requirements. You can contact her via Nick Hern Books, performingrights@nickhernbooks.co.uk.
Thursday 29 September 2016
In our September 2016 Plays to Perform Newsletter we bring you new releases of The Crocodile by Tom Basden, Eggs by Florence Keith-Roach, Epic Love and Pop Songs by Phoebe Eclair-Powell, Cans by Stuart Slade, Elephants by Rose Heiney and Cornermen by Oli Forsyth. We have also just acquired the music to Blue Stockings by Laura Forrest-Hay, which is available for licensing. Brush up on making your own music for the stage with our book of the month: Writing Music for the Stage. Hear all about our day out at the Amateur Theatre Research event at Royal Holloway, and follow amateur productions up and down the country. To read the newsletter in full, please click here