Showing 49-60 of 346 items.
The best-loved English comedy of the 18th century.
The Rolls-Royce of English comedies, exploring corruption and morality, and bringing an act of political sin into the heart of the English home.
A play about the dog-eat-dog world of television.
A play about the gulf that separates Britain and Black Africa.
Fletcher and Massinger's bawdy Jacobean drama is transposed to 1890s Johannesburg.
A wartime comedy set in Cairo.
A comedy drama set in the seedily glamorous world of 17th-century London theatre.
A delightfully morbid black comedy with a nod to Hitchcock's Rope.

The multi-award-winning playwright explores the subjects of football and sectarianism, set during the 1994 World Cup.

Hollywood comes to rural Ireland in this hilarious multi-award winner which ran for four years in London's West End.

A play about love, death, identity and evolution, from the bestselling and highly acclaimed novelist.

An ingenious satirical comedy, often considered playwright Richard Brome's masterpiece and one of the greatest comedies of the Caroline era, presenting a farcically topsy-turvey view of London in the 1630s.
Amateur Productions
On Stage Now
---
Tom Basden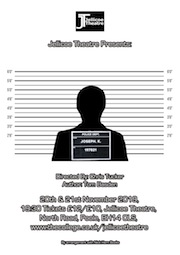 20-21 Nov
Jellicoe Theatre