Showing 1-12 of 346 items.
The play is set in 1950s Nottingham, and follows a group of friends who work on the production line of the John Player tobacco factory.
A brilliant version of the classic tale, from a playwright acclaimed as 'the master of children's theatre' (Scotsman).
A rich and magical play for all the family, from a master of storytelling.
A bawdy, satiric and theatrically allusive comedy that was extremely popular with seventeenth-century readers.
Magnetic, nostalgic and gloriously imaginative, a comedy drama from award-winning New York playwright Sarah Ruhl.
An entertaining comedy-drama set in a local donut shop in the heart of one of Chicago's most diverse communities. By the Pulitzer Prize winning author of August: Osage County.
A penetrating drama laced with the signature humour of the Pulitzer Prize-winning author of Rabbit Hole. Good People explores the struggles, shifting loyalties and unshakeable hopes that come with having next to nothing.
A hilarious comedy about the misadventures of miscommunication, exploring the modern difficulty of doing business between East and West.
An eidition of the play in the Shakespeare Folios series - offering the absolute authenticity of the First Folio in a totally accessible form.
An ingenious satirical comedy, often considered playwright Richard Brome's masterpiece and one of the greatest comedies of the Caroline era, presenting a farcically topsy-turvey view of London in the 1630s.
The third in Terence Rattigan's unofficial trilogy of war plays, published alongside an earlier version of the play, Less Than Kind, never staged during Rattigan's lifetime.
The homebody of the title is a bored but highly intellectual Englishwoman who finds refuge and escape in the alternate world of Aghanistan, exoticised in her mind's eye with the help of an out-of-date guide book.
Amateur Productions
On Stage Now
---
Tom Basden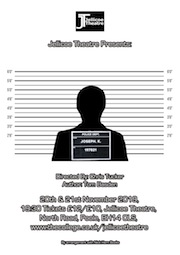 20-21 Nov
Jellicoe Theatre