Peter Brook

Peter Brook (1925–2022) was one of the most influential and important figures in twentieth-century theatre. Outstanding in a career full of remarkable achievements were his productions of Titus Andronicus (1955) with Laurence Olivier, King Lear (1962) with Paul Scofield, and The Marat/Sade (1964) and A Midsummer Night's Dream (1970), both for the Royal Shakespeare Company.
After moving to Paris and establishing the International Centre for Theatre Research in 1970 and the International Centre for Theatre Creation when he opened the Bouffes du Nord in 1974, he produced a series of events which pushed at the boundaries of theatre, such as Conference of the Birds (1976), The Ik (1975), The Mahabharata (1985) and The Tragedy of Carmen (1981) to name but a few.
His films include Lord of the Flies (1963), King Lear (1970), The Mahabharata (1989), Tell Me Lies (restored 2013) and Meetings with Remarkable Men (restored 2017).
His hugely influential books, from The Empty Space (1968) to The Quality of Mercy (2013), Tip of the Tongue (2017) and Playing by Ear (2019), have been published in many languages throughout the world.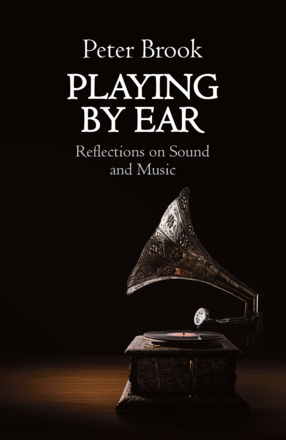 Reflections on Sound and Music
A collection of new essays from the world-renowned director, offering unique and personal insights into sound and music.
Peter Brook's seminal book, an acknowledged classic of theatre writing, setting out many of the ideas about theatre which informed his lifelong work as a theatre director.

A provocative study of what it means to be free, by the internationally acclaimed theatre director and his long-time collaborator.

Reflections on Language and Meaning

A wise, playful and deeply personal book by master theatre-maker Peter Brook.

The internationally renowned team of Peter Brook, Marie-Hélène Estienne and Jean-Claude Carrière revisit the great Indian epic The Mahabharata, thirty years after Brook's legendary production took world theatre by storm.

Reflections on Shakespeare

One of the world's most revered theatre directors reflects on a fascinating variety of Shakespearean topics.

Renowned theatre director Peter Brook on the essential questions facing anyone performing Shakespeare today.