Showing 91-108 of 1,886 items.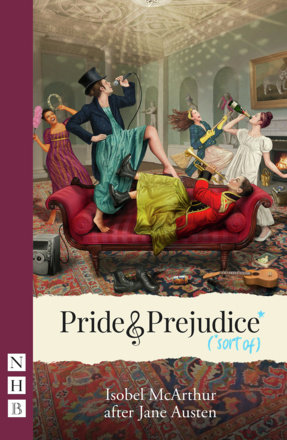 A loving and irreverent all-female adaptation of Jane Austen's unrivalled literary classic, winner of the Best Entertainment or Comedy Play at the Olivier Awards.
A spine-tingling stage adaptation that is faithful to the heart and spirit of Charles Dickens' much-loved festive ghost story – with an emphasis on the ghostly.

An explosive fusion of text, physical theatre and hip-hop dance exploring vulnerability, emotional trauma and what it means to be a black man in twenty-first-century Britain.

A funny, surreal play reflecting the experience of being a new mother under Trump.

An utterly original, wryly funny play about one woman's search for a place to belong in a world that's not all it seems. Joint winner of the 2021 Papatango New Writing Prize.

A riveting and poignant exploration of the ties that bind us, threaded through with captivating fables. Joint winner of the 2021 Papatango New Writing Prize.

A play that beautifully captures the story of two young people on the edge. Joint winner of the 2021 Papatango New Writing Prize.

Three Prize-Winning Plays

Three urgent and compelling plays, joint winners of the 2021 New Writing Prize awarded by acclaimed theatre company Papatango, in partnership with English Touring Theatre.

An epic love story exploring the impact of a war that Europe forgot, and the love and loss of those who lived through it. Winner of the 2020 Papatango New Writing Prize.

A play that rips apart history to shed new light on the nexus of race, gender, and sexuality in twenty-first-century America.

A thrilling stage adaptation of Oscar Wilde's only novel, The Picture of Dorian Gray, following one man's descent from glorious debauchery to epic self-destruction.

A subversive and intimate love story about inheritance and the cycles of politics and history.

A witty reimagining of a television classic for the stage, with a wellyful of laughs that's sure to delight audiences everywhere.

An unflinching look at race in the 21st century from both a black and white perspective, from a Pulitzer Prize-winning playwright.

Politics and the planet collide in a fiercely original play about the limits of science, the power of myths, and the things we can't control.

The story of a young slave girl who lives through the final turbulent days of slavery on a sugar plantation in 19th-century Jamaica. Adapted from Andrea Levy's award-winning novel.

An entertaining and provocative new play inspired by Ovid's powerful collection of myths.

A viscerally charged play, full of moral ambiguity and psychological complexity, examining the nature of consent, trust and trial by social media.