Showing 37-54 of 1,885 items.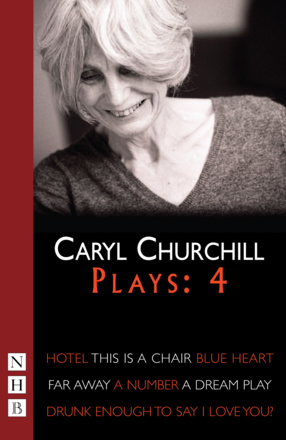 The fourth volume of the collected plays of one of the best playwrights alive.
The second collection of plays from the multi-award winning author.

Freeing the Actor

A top-ranking director sets out his rehearsal techniques in this invaluable handbook for actors and directors.

A Complete Voice Course for Actors

A unique new approach to the understanding and training of the actor's voice, with an accompanying 110-minute DVD showing the work in action.

Four urgent and explosive plays by award-winning playwright Evan Placey, each tackling issues facing young people today.

Two plays by David Edgar, written thirty-five years apart, both exploring the theme of youth and revolution.

Seven new plays from VAULT Festival

An anthology of seven of the best plays from VAULT Festival 2019, London's biggest and most exciting arts festival.

The fifth volume of the collected plays of one of our finest playwrights.

Structure, Character, How and What to Write

An authoritative guide to playwrighting, by a true master of the craft. Indispensable for playwrights at every level of experience.

A collection of plays by the acclaimed film director, playwright and screenwriter: This Is Our Youth, The Waverly Gallery and Lobby Hero.

A Handbook for Actors, Directors and Designers

A passionate, illuminating exploration of Shakespeare's greatest plays and characters, from the director of the acclaimed theatre company Shakespeare at the Tobacco Factory.

Antony Sher's account of researching, rehearsing and performing one of Shakespeare's greatest roles, Lear, in the 2016 Royal Shakespeare Company production. Winner of the 2019 Theatre Book Prize.

An Actor's Journal

A unique, inside account of preparing for, rehearsing and performing in one of the most important cultural phenomena of our time – Hamilton by Lin-Manuel Miranda – from London's original Aaron Burr.

Two towers. Ten years. Twenty plays.

Ten years after 9/11, twenty international writers respond to the defining event of our times.

A two-part version of Goethe's great work, retaining the mighty scope, linguistic daring and philosophical intricacy of the original.

New Irish Plays

Four Irish plays from the late 1980s, selected and introduced by David Grant of the Dublin Theatre Festival.

The best known - and longest - of Harley Granville Barker's celebrated Prefaces to Shakespeare: some of the best practical guides to Shakespeare's work yet written. With a foreword by Richard Eyre.

Theatre Games in Three Courses

Packed full of tried-and-tested theatre games, exercises and improvisation ideas, Drama Menu is a unique new resource for drama teachers and workshop leaders.