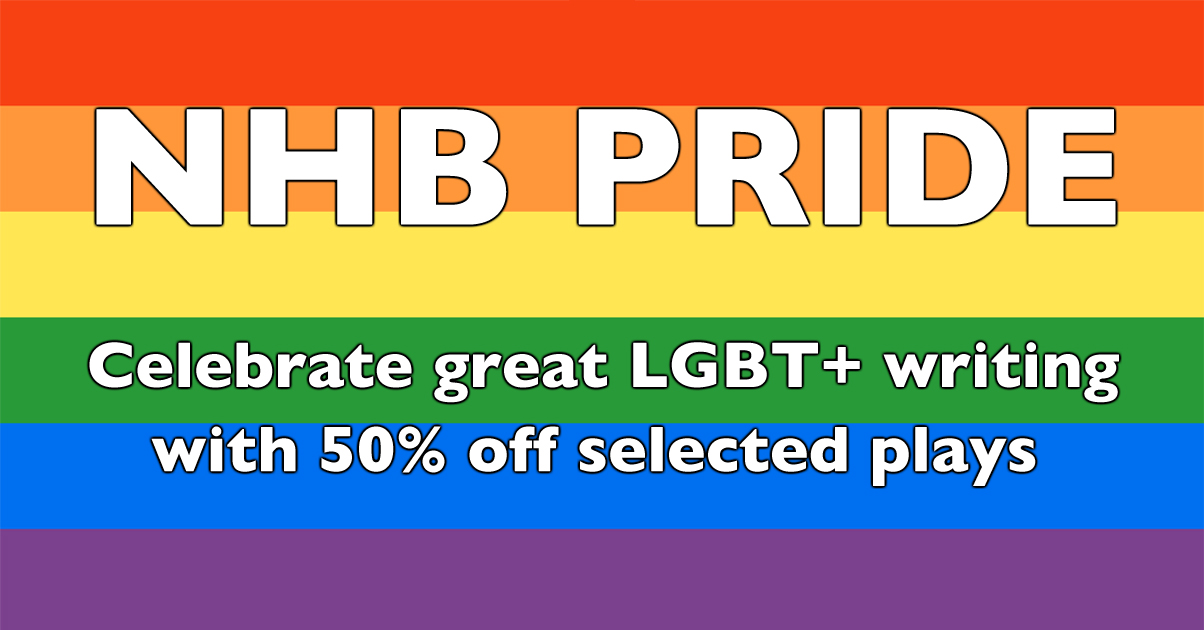 This offer has now expired. To make sure you don't miss out on any of our offers, subscribe to our newsletter and/or follow us on Twitter.
Pride Month 2019 is now underway – and this year's celebrations have an added significance as 2019 marks fifty years since the Stonewall riots, considered a landmark moment in the fight for LGBT+ rights.

So to mark the occasion, we're celebrating just some of the fantastic LGBT+ writing by our authors – and giving you a special chance to add to your collection.

Until 31 July, you can save 50% on twenty hand-picked, NHB-published plays that capture, chronicle and celebrate LGBT+ experiences and voices, when you use code NHBPRIDE at checkout on this website.
Browse the selection below and make your picks. This offer is valid until 31 July 2019, and applies to both paperbacks and ebooks (where available).
Showing 1-20 of 20 items.
The remarkable true story of a young trans man's journey from Egypt to Scotland, charting his progress across borders and genders in his search for a place to call home.
A magnificent, two-part epic drama set during the Reagan years in America - now recognised as one of the greatest plays of the twentieth century.

An outrageously fun musical set in an all-girls school in the 60s, from the team behind Bad Girls: The Musical.

Two rich and startling monologues from award-winning actor and playwright Karen Cogan.

A comic play about sex and commitment in the 21st century.

An incisive and heartfelt play about sexuality, gender and religion in twenty-first-century Britain. Winner of the 2018 Papatango New Writing Prize.

A powerful, witty and moving play exploring the dark interplay between sexuality and creativity.

Two unflinching plays from exciting new writer and performer, Izzy Tennyson.

A play about what happens when you push things underground, set in New York 1969 in the sweltering few days before the eruption of the Stonewall riots.

The remarkable true-life love story, adapted from Timothy Conigrave's memoir of growing up gay in 1970s Melbourne.

A raw and provocative portrait of a love story, exploding attitudes, emotions and prejudices that sit at the heart of relationships across the world.

A hilarious and heart-warming comedy about football, friendship and finding your way.

A deliciously funny and bittersweet comedy that captures the fragility of friendship, happiness and life itself. Winner of the Evening Standard and Olivier Awards for Best Comedy.

Larry Kramer's passionate, polemical drama is set during the early days of the AIDS epidemic in the 1980s.

The powerful debut play from Alexi Kaye Campbell, examining changing attitudes to sexuality.

A love story about transition, testosterone, and James Dean - commissioned as part of the 2014 National Theatre Connections Festival and premiered by youth theatres across the UK.

Queers celebrates a century of evolving social attitudes and political milestones in British gay history, as seen through the eyes of eight individuals.

Stephen Laughton's one-man play about a gay Jewish seventeen-year-old explores what it means to love, to lose, and how to grow from a boy into a man.

A touching and provocative story of first love though the eyes of a gender-curious teen, Scorch was inspired by recent UK cases of 'gender fraud'.

An insightful and revealing play, inspired by real events, which explores society's uncomfortable embrace of the outsider.