NHB Classic Plays
Showing 91-108 of 128 items.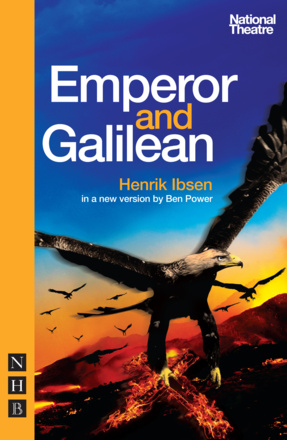 A thrilling version of Ibsen's epic play, charting the true odyssey of an astonishing man as he struggles to find spiritual fulfilment and political pre-eminence.
Eugene O'Neill's epic Pulitzer Prize-winning play about love and forgiveness.

An adaptation of Ibsen's extraordinary last play, When We Dead Awaken, one of his most deeply personal works.

An intense and powerful drama set in a Nottinghamshire mining town. In the Nick Hern Books Drama Classics series.

Lorca's extraordinarily powerful drama, the last he wrote before his assassination, explores the darkness at the heart of repression.

A thrilling adaptation of the beloved, award-winning children's novel.

A gripping new version of Strindberg's masterly, darkly hilarious depiction of the struggles and strains of marriage.

A funny and touching new version of Pirandello's high-spirited drama, set at the heart of a rural community where property and family unleash fierce passions.

There is limited availability of this title. Please

enquire

before placing your order.

Richard Eyre's version of Ibsen's Ghosts is a fresh and vivid depiction of a woman who yearns for emotional and sexual freedom, but who is too timid to achieve it.

A collection of five of Anton Chekhov's best-known short plays, in brand new English translations.

A comic duologue about a civil servant sweltering in Moscow coping with the incessant demands of his family from their summer dacha.

A one-act play by Chekhov in a translation by Chekhov expert Stephen Mulrine.

A one-act comic play about a reclusive young widow whose life takes a surprisingly romantic turn.

A brilliantly funny one-act play about a hypochondriac attempting to propose to an argumentative young woman.

A comic duologue about a melancholy old actor perked up by memories of past glories.

A bittersweet monologue in which a scientific lecture is hijacked by thoughts of domestic misery.

A hilarious city comedy by the authors of A Mad World, My Masters and The Shoemaker's Holiday. features the text edited for the RSC production, and introductions by key members of its creative team. Part of the RSC's Roaring Girls season.

A domestic tragedy about a woman plotting to have her husband murdered, Arden of Faversham was first published in 1592. Its authorship is unknown, although suggestions include Thomas Kyd, Christopher Marlowe and William Shakespeare.