Showing 37-54 of 82 items.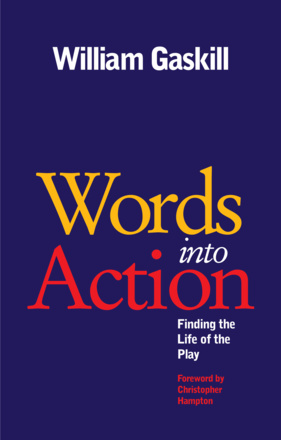 Finding the Life of the Play
Packed with insights from a lifetime of directing theatre, Words into Action is a fascinating read and a vital masterclass for actors and directors.
Thirteen Leading Actors on Thirteen Key Roles

Thirteen leading actors take us behind the scenes, each recreating in detail a memorable performance in one of Shakespeare's major roles.

As part of the ever-growing, increasingly popular Drama Games series, Jessica Swale returns with another dip-in, flick-through, quick-fire resource book, packed with dozens of drama games that can be used in the process of devising theatre.

An invaluable guide to the difficult arts of devising plays and directing texts, by one of the UK's leading theatre directors.

A 'fast-forward' acting course covering all the essential techniques an actor needs to know and use – with a suite of exercises to put each technique into practice.

A unique collection of Shakespeare's every reflection on the theatre, offering fascinating insights into the man, his work, and the world of the Jacobean stage.

A Fly-on-the-Wall Guide for Emerging Theatre Directors

A practical handbook that lifts the lid on what it means to be a theatre director. Russ Hope gives us unprecedented, fly-on-the-wall access to eight different rehearsal rooms - the result is both a portrait and a masterclass from a generation of theatre practitioners. Essential reading for anyone who wants to follow in their footsteps.

Twenty-four Interviews

In this volume of interviews, director and teacher Anne Bogart dissects the driving forces behind some of the world's foremost theatre practitioners. 

There is limited availability of this title. Please

enquire

before placing your order.

A practical guide to training as an actor, helping you get the most out of drama school - and survive in the world beyond.

A Guide for Actors, Directors and Teachers

A step-by-step introduction to the key features of the Meisner Technique, including a full set of practical exercises.

Reflections on Shakespeare (Hardback)

One of the world's most revered theatre directors reflects on a fascinating variety of Shakespearean topics.

Twenty Interviews

A cross-section of the most diverse and dynamic stage directors defining today's American theatre, in conversation with director/producer Jason Loewith.

An Actor's Guide to Shakespeare

An invaluable book for actors and directors who want to improve their understanding of Shakespeare's language in order to speak it better

Storytelling and Adapting for the Theatre

A practical investigation into story-theatre and the art of telling stories through theatre, by the renowned director who founded Shared Experience Theatre Company.

The Frazzled Drama Teacher's Guide to Devising

An inspiring, practical handbook for anyone working with young people to make devised theatre.

An inspiring guide to a hundred plays that put female performers centre stage, dispelling the myth that 'There just aren't any good plays for women'. With a foreword by Kate Mosse.

An exploration of Shakespeare's life and work by a leading actor who has spent twenty thousand hours working on the plays.

A practical, hands-on guide - for actors, directors, teachers and students - to Brecht's theory and practice of theatre, with a full set of exercises to help put theory into practice.