Drama Menu
Theatre Games in Three Courses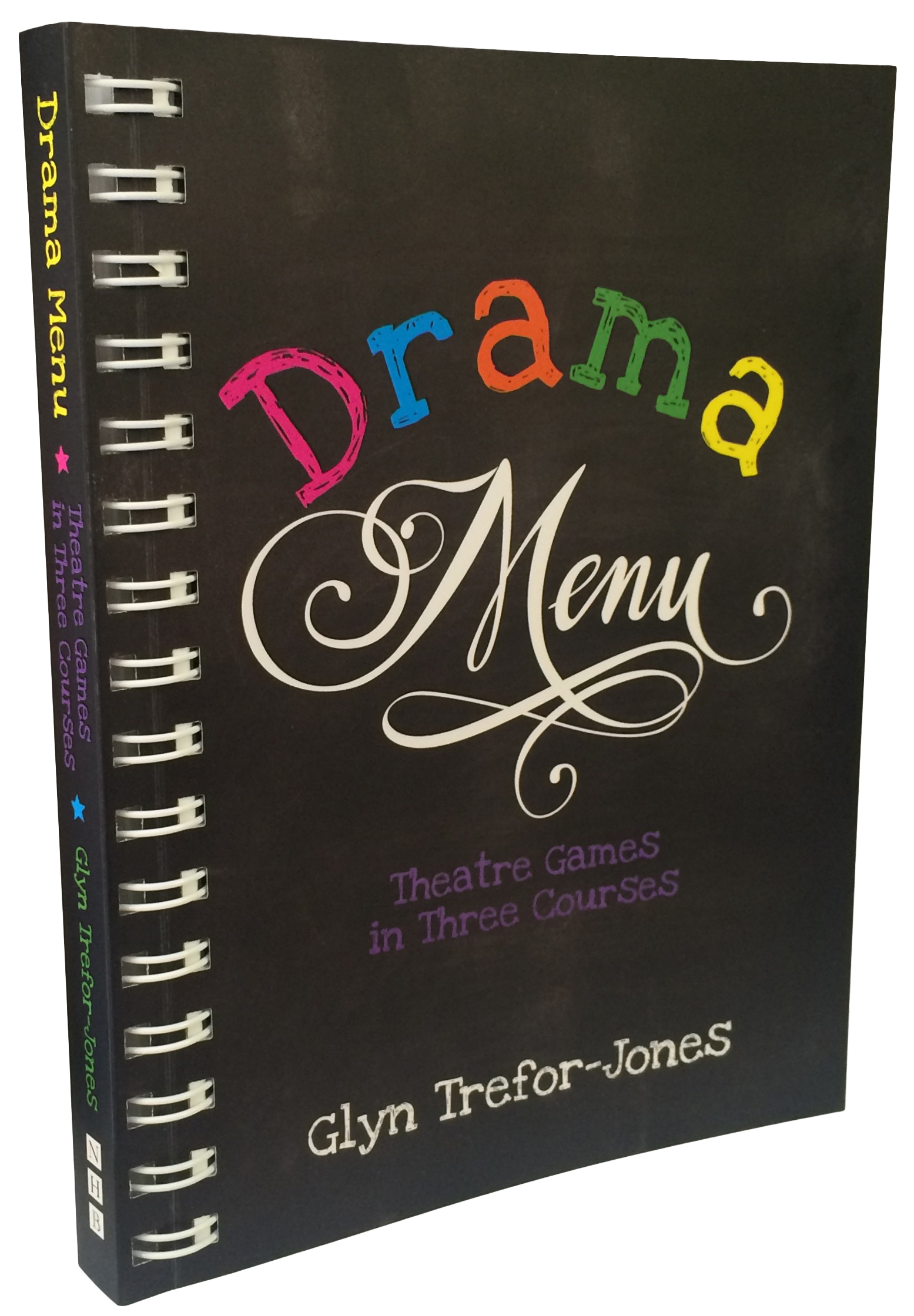 Drama Menu is a brand new concept for planning and delivering dynamic, progressive drama lessons and workshops. Packed with over 150 tried-and-tested theatre games, exercises and improvisation ideas, it's an essential resource for any drama teacher or workshop leader – guaranteed to deliver delicious drama sessions every time.
Simply make a selection from each of the three courses, and your whole drama session will come to life with new-found energy and focus:
Appetisers are fast-paced warm-up exercises to energise and enthuse the group;
Starters are the intermediary course to challenge the players and encourage creativity;
Main Courses provide the central part of the session, culminating in a final performance piece;
And a few Desserts are also provided, if you have some space at the end of your session for something sweet.
Drama Menu is the recipe book that will relieve the stress of planning lessons and workshops. Now you can get on with what you do best: delivering creative drama sessions that will have your groups hungry for more.
The comprehensive Resource Pack accompanying the book is available to download from this page.
Visit the Drama Menu website, where you can join the online Drama Menu community, browse and share other recommended menus, and download a selection of sound effects, providing everything you need to start playing straight away.
'Well organised and easy to use… a useful and relevant tool for anyone involved with facilitating drama sessions'
'An essential resource for anyone teaching drama to children of all ages... with catchy titles, clear numbering and individual exercise summaries Drama Menu is an easily accessible, flexible and creative resource useful for any dramatic platform. A must have for all teachers wanting to give their students the very best!'
'Easy to navigate... definitely something for everyone... a really useful collection'
'Ideal... [the author's] knowledge and experience are apparent in his writing and this book will provide a great deal of varied and inspiring material for sessions with secondary-aged or older students, although many activities could be used with or adapted for younger age-groups.'
'Unbelievably useful... every reader will find something new and of absolute hands-on usefulness... Drama Menu will become your companion'
Glyn Trefor-Jones is a theatre director, writer and teacher. Having gained a degree in Modern History and Politics from Cardiff University, he went on to pursue his creative ambitions by studying Acting and Musical Theatre at Hertfordshire Theatre School and, later, acting and creative writing at AARTS International.
Having toured extensively as an actor, performing in a variety of theatre, corporate and television work, he began to write and tour his own work, establishing Prospero Productions, Liberty Productions and the Bedford Rep Theatre Company. He has written extensively for young people as well as writing, directing and producing his own musicals under the production company Glyn Trefor-Jones Presents.
He has always combined his theatre engagements with teaching work and has worked for an eclectic array of drama schools, youth theatre companies, schools and drama groups in both the UK and USA.
In 2005, Glyn established The Academy of Performing Arts, a part-time theatre school for young people between the ages of five and seventeen. The Academy quickly flourished into a thriving training academy with centres across Bedfordshire and Warwickshire. Glyn remains the creative director of all schools and continues to teach acting and musical theatre.
---
Related titles:
---
Recently viewed:
Email a friend
CURRENT BESTSELLERS
based on sales through this website in the last 60 days